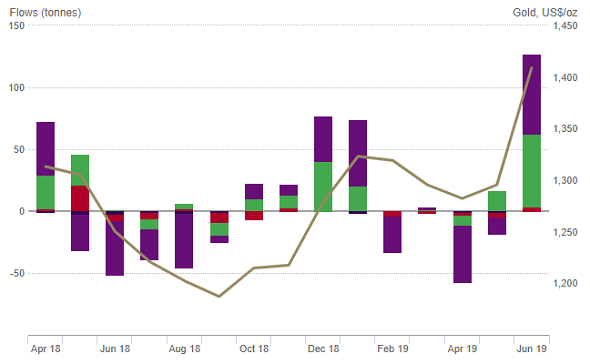 Gold futures on the COMEX division of the New York Mercantile Exchange rose significantly on Wednesday as US Federal Reserve Chairman Jerome Powell's testimony boosted hopes for interest-rate cuts.
Most prominently, the Fed Chair stated that "it appears trade uncertainties and concerns about the global economy continue to weigh on economic outlook", adding that the Fed "will act as appropriate to sustain USA economic growth".
The most active gold contract for August delivery went up 12.00 dollars, or 0.86 percent, to close at 1,412.50 dollars per ounce.
Uncertainty prompted some investors to unwind short positions against some heavily shorted currencies, such as the Australian dollar, which rose 0.2 per cent in early London trading.
"For the short term, we see gold pushing higher, although we suspect that the June highs in the mid-$1,440/ounce range will prove to be formidable resistance", Ed Meir, an independent commodity consultant, said in a report on INTL FCStone.
US-China trade jitters also resurfaced after US President Donald Trump said China was not living up to promises it made on buying agricultural products from American farmers. Gold is considered a safe investment during political and financial uncertainty. Adding to global uncertainties, Iran's alleged attempt to block a British-owned tanker heightened tensions in the Middle East in the wake of attacks on tankers and the downing of U.S. drone by Iran in June.
Also, a slightly weaker dollar was helping gold's case, making the metal cheaper for investors holding other currencies. US unit was heading for weekly decline after surging more than 1% last week.
Powell's remarks were perceived as dovish by many market participants and fueled expectations for interest cuts.
"Following these words, the market is now even pricing in a rate cut of more than 25 basis points at the Fed's next meeting on 31 July - just as it had before the robust United States labour market data", a report by Commerzbank AG said.
Among other precious metals, palladium erased gains and dipped 1.7% to $1,561.86 per ounce, having earlier hit a high of $1,605.52.