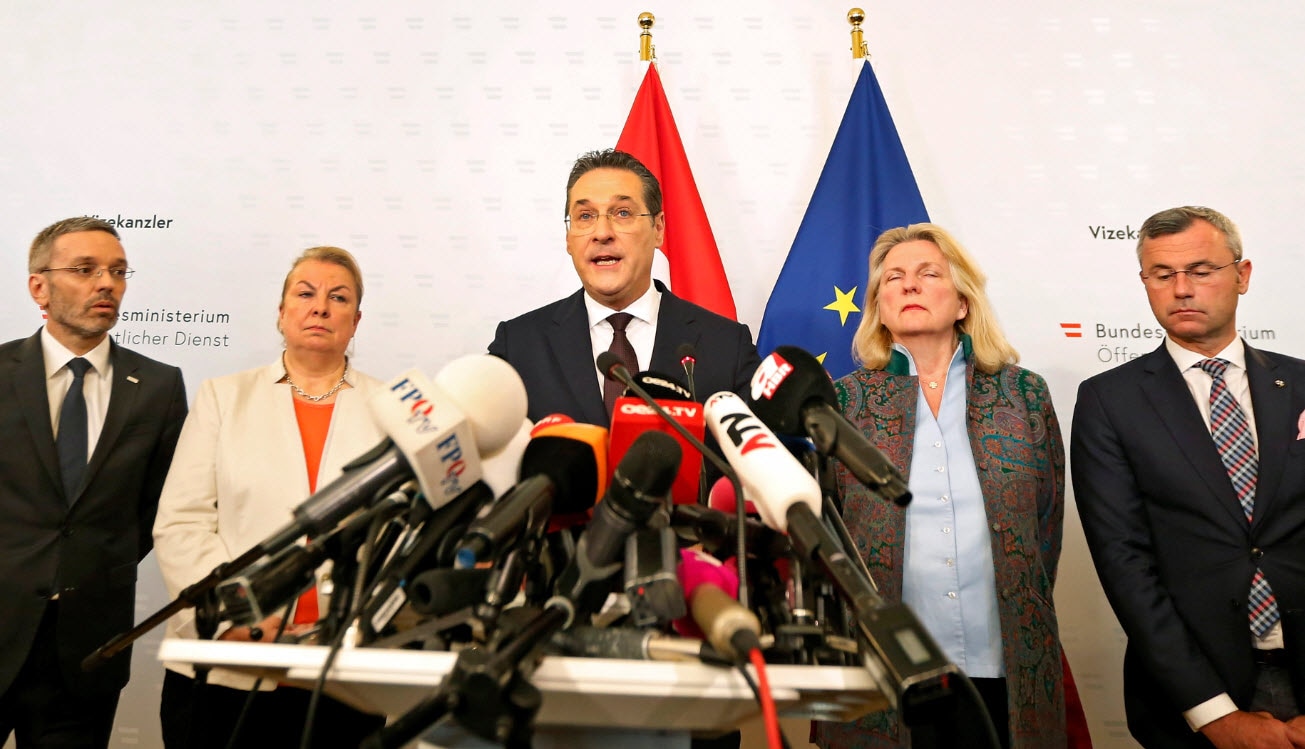 The far-right Freedom Party (FPO) quit Austria's coalition government on Tuesday after the president sided with Chancellor Sebastian Kurz and sacked the hardline FPO interior minister, paving the way for a caretaker government.
Kickl's removal, which must still be approved by Austria's president, follows the resignation on Saturday of Freedom Party leader Heinz-Christian Strache, who was also Austria's vice chancellor.
Austria is preparing for an election in September after, what is being labelled, the "Ibiza scandal". But in an interview with national broadcaster ORF later in the evening, Norbert Hofer, the new head of the Freedom Party, only repeated that its ministers would step down if Kickl were forced out.
Saying he could no longer tolerate the Freedom Party (FPÖ) scandals, Mr. Kurz scrambled to regain control with local media speculating he may oust Interior Minister Herbert Kickl, one of the far-right party's top figures, as a way to impose his authority.
Kurz added that in conversations with Kickl and other Freedom Party officials following the video's release, he "didn't really have the feeling (they had) an awareness of the dimension of the whole issue". However, the government has been caught up in a corruption scandal involving the vice chancellor (HC Strache, leader of the FPO) where he and a colleague were caught on video discussing illegal deals with a woman purporting to be the niece of a wealth Russian businessman.
Kickl was FPO's secretary-general at the time when any political donations would have been made.
His party has been in government with Kurz's centre-right People's Party (OVP) since December 2017.
A minister from Kurz's party, Gernot Bluemel, told ORF television he expects that Kurz will dismiss Kickl.
Kurz has endorsed a hard line on migration and public finances, and he chose to ally with the Freedom Party after winning the 2017 election.
He said the recordings were the final straw in a string of FPOe-related scandals.
The most damaging recent controversy linked to Kickl was past year when the interior minister ordered raids on the country's own domestic intelligence agency BVT.
"We cannot value the appearance of that video in any way, because it has nothing to do with Russian Federation, neither with the president, nor with the government", Kremlin spokesman Dmitri Peskov said Monday.