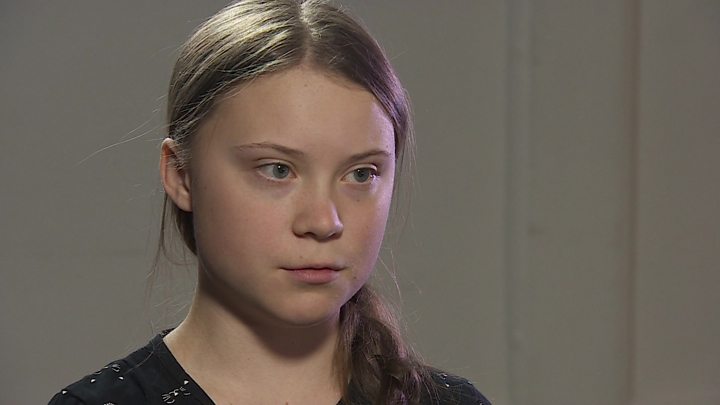 At London Stock Exchange's headquarters on Thursday, six protesters dressed in black suits and red ties were blocking the revolving doors of the building.
Climate change activists glued themselves to the entrance of the London Stock Exchange on Thursday as part of nearly two weeks of protests disrupting the capital.
Extinction Rebellion said it wanted the United Kingdom government to "tell the truth on its impact on the climate and ecological emergency" and had targeted London's financial centre to highlight the "corrosive impacts of the financial sector on the world we live in".
Activists from the Christian Climate Action joined the demonstrations by holding signs stating "business as usual death" and "don't jail the canaries" whilst holding a prayer vigil.
British Transport Police officers used ropes, harnesses and ladders to take down the five Extinction Rebellion protesters who climbed onto a train at Canary Wharf, including 83-year-old Phil Kingston.
On Thursday, they turned their attention to London's financial district, known as the City - home to more worldwide banks than any other and the global centre for foreign exchange trading.
Protesters - organized as the group Extinction Rebellion - have been distrupting traffic and bus routes by blocking bridges and major intersections in non-violent gatherings.
More than 1,000 people have been arrested during XR protests which started on April 15, while more than 10,000 police officers have been deployed.
Extinction Rebellion says it will end its remaining blockades at Marble Arch and Parliament Square on Thursday.
In a statement announcing the end of its action Extinction Rebellion said: "We would like to thank Londoners for opening their hearts and demonstrating their willingness to act on that truth". We do not do this lightly. "We want to highlight this poisonous system that enables climate catastrophe, because it focuses on money".
The Metropolitan Police said they were arrested on suspicion of aggravated trespassing.
This is what happened when Nick Ferrari spoke to one of the Extinction Rebellion protesters who were glued to the London Stock Exchange. "We only do this because this is an emergency".
Just when we thought things couldn't be any more intense, easily the most freakish of all the stunts took place when a woman was discovered with her breasts glued to the road in the middle of London.
Responding to a Parliamentary question on the protests from former Labour leader Ed Milliband, the government said it hoped to work with all parties to make progress with climate change. "We would encourage people to check their journeys before they travel".
So, how did the police manage to unglue her ... upper half from the street?