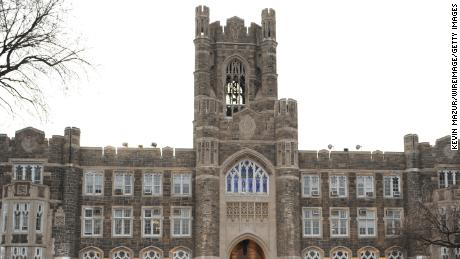 A Fordham University student who climbed the campus' landmark bell tower Sunday to snap photos of the New York City skyline suffered critical injuries after she accidentally fell.
A United States university student has died after she fell more than 12 metres from a campus bell tower in the early hours of Sunday morning.
On Sunday night, the university released a statement saying, "Our hearts go out to Sydney's parents, and her family and friends".
Monfries, 22, fell from the clock tower after ascending a staircase inside early Sunday with friends to touch its bell and snap photos of the city, police said. The student, a senior, was taken to St. Barnabas Hospital, and the student's family was notified.
The father was seen sobbing as he left the hospital with one of the priests a short time later.
Sydney Paige Monfries, 22, from Portland, Oregon, fell from a bell tower as she attempted to take photos of the NY skyline.
McShane invited the Fordham community to a mass for Monfries at 7 p.m.in the University Church. But there is no bell in the tower, the school said. University officials are investigating how the students gained access to the tower.
School officials said Keating Hall and the door to its clock tower are always locked and only accessible by authorized staff members, and this was the first time anyone had fallen from the structure.
Access to the tower is restricted, a university spokeswoman told the Times.
"She was with a group of friends ... They were like, 'We're seniors, let's go!'" he said.
The budding journalist, who was due to graduate next month, had completed a string of internships at a news network, InStyle magazine and a public relations company.