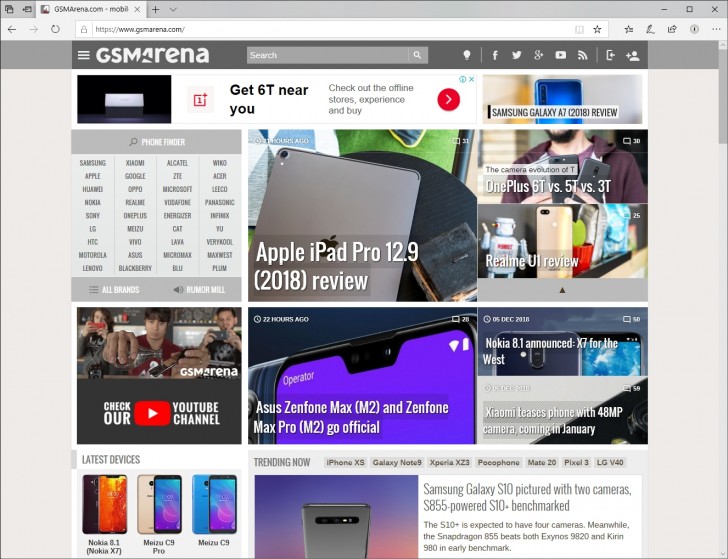 In the early days of web browsing, Microsoft embraced proprietary standards, and it was particularly hard for some business professionals to leave IE behind because so much of what they did was built for IE. The company is set to align Microsoft Edge simultaneously with Web standards and with other Chromium-based browsers.
Microsoft is finally getting ready to throw in the towel and admit that it can't make web browsers, with Edge apparently getting ready to be replaced by a new browser built on Google's Chromium.
In a blog post published today, Microsoft says that it wants to become a "significant contributor to the Chromium project" helping to improve things not only for web users, but also web developers. While the engine will change, Microsoft has stated that they will continue utilizing the Microsoft Edge name and will now bring the browser to all supported Windows platforms.
While Chrome is the most popular web browser in the world - and by quite a margin - Edge has been struggling to make an impact for a while now, so this move is (in our view) a good one by Microsoft. "Chrome has been a champion of the open web since inception and we welcome Microsoft to the community of Chromium contributors", a Google spokesperson said.
If you're the type who likes to get eyes on beta versions of software before it hits the masses, there's also an Insider Program for the Edge browser. And launching Edge on other Windows versions and on the Mac will open it up to a whole new crowd. Microsoft even took the unusual step of nagging people to use Edge in Windows.
While for now the all-new version of the tech giant Microsoft's Windows, which is named as Windows Lite still only appears in some areas of Windows code but it is already a constant presence, showing that soon it will arrive, apparently in a new device, such as Centaurus about which we talked here.
Rebuilding a web browser from the ground up is no small feat, but Microsoft says it is committed to providing the best web browsing experience on Windows. So Edge will likely look more or less as it does now but with certain differences based on the new engine.
We will contribute web platform enhancements to make Chromium-based browsers better on Windows devices. Would you give the new Edge a try?
That new browser is said to now carry the codename Anaheim, and will replace Edge as the default browser for Windows 10. Edge currently suffers from compatibility issues with some websites, many of which are now optimized to run properly on Chrome. And, of course it will save Microsoft resources. Edge is going to be rebuilt in Chromium, a change that will happen under the hood and will mostly go unnoticed by users.
This implies that the browser will be updated independently and will no longer be tied to major Windows system updates. I don't know (and not sure if Microsoft does, at this point) which pieces, if any, of the Edge infrastructure will be kept.