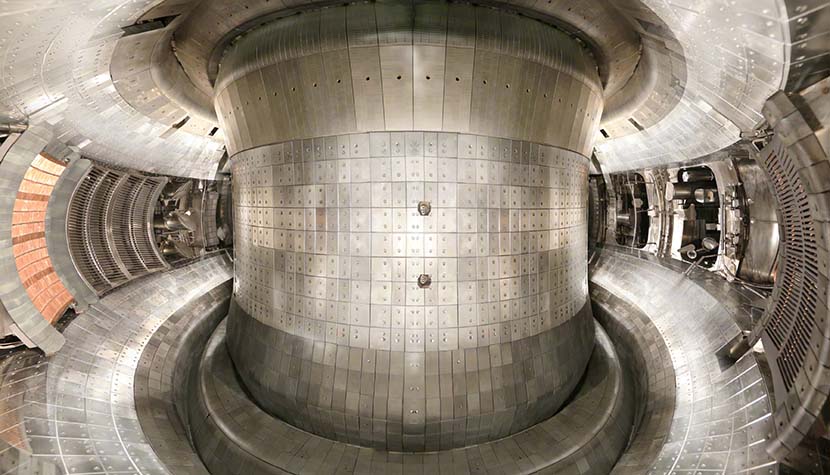 Tokamak reactors hope to generate fusion energy from a plasma trapped in a magnetic field - but the key to igniting the fusion of hydrogen atoms into helium atoms is temperature.
On Monday, officials from China's Hefei Institute of Physical Science announced that it sustainably reached over 100 million degrees Celsius in its Experimental Advanced Superconducting Tokamak (EAST).
This "Artificial sun" has became the hottest nuclear fusion experiment on our planet Earth- with the plasma temperature reaching 100 million degrees Celsius.
The news comes a month after the country released plans to launch an "artificial moon" by 2020.
The achieved temperature is about seven times hotter than the interior of the Sun, which is approximately 15,000,000 C. Gong said the experimental temperature was about 50,000,000 C previous year. Created to replicate the process our Sun uses to generate energy, researchers set up the Experimental Advanced Superconducting Tokamak (EAST) fusion reactor in 2006. Nuclear fusion programmes like EAST are working to reach that state on Earth and harvest the energy produced, potentially providing an unlimited amount of clean energy.
To harness the energy, the plasma must be suspended inside a reactor.
The objective of this reactor is to replicate the process that the sun uses to produce energy. The facility is 11 meters tall, with a diameter of 8 meters, and a weight of 400 tons.
The massive amount of pressure inside the Sun forces tritium and deuterium isotopes (atomic variations of hydrogen) to fuse together, releasing tremendous amounts of energy.
Well with ground breaking records, EAST and WEST are likely to help mankind to light up a Sun at night too.
The Chinese team said that they achieved the record temperature using a variety of new techniques for heating and controlling the plasma, but could only maintain it for about 10 seconds.
The team says that it was able to achieve fully non-inductive steady-state scenario with high confinement, high density, and high energy confinement enhanced factor during test operations.