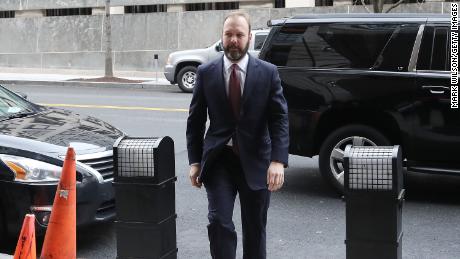 Former Trump campaign adviser Rick Gates reached out to an Israeli company in 2016 and asked for proposals to run a disinformation campaign, including creating fake online identities, to help President Trump win the primary and general election, The New York Times reported Monday. "Though the Israeli company's pitches were narrower than Moscow's interference campaign and appear unconnected, the documents show that a senior Trump aide saw the promise of a disruption effort to swing voters in Mr. Trump's favor", the New York Times says.
In this June 21, 2017, photo, special counsel Robert Mueller departs after a meeting on Capitol Hill in Washington.
Trump has repeatedly denied there was any collusion.
The misinformation campaign, dubbed 'Project Rome, ' was produced by the Israeli private intelligence firm Psy-Group, which was founded and run by former members of the Israeli intelligence services and pitched to Rick Gates, the former deputy campaign manager for Trump, serving under Paul Manafort. One proposal that Gates wanted to pursue involved setting up fake online personas to influence 5,000 delegates at the 2016 Republican National Convention, the NY Times reports.
Another campaign would use the same tactic to target female minorities in the suburbia in swing states to push them toward Trump and away from Clinton.
The firm also suggested building "intelligence dossiers".
The proposals were kept secret, with code words "Lion", "Forest" and "Bear" used to signify Trump, Clinton and Cruz respectively.
Meanwhile Psy-Group would conduct opposition research, create a series of "intensive influence activities and campaigns" and "complementary intelligence activities" with the intention of exacerbating the political divide along party lines and within the Republican Party's supporters themselves.
Zamel has been questioned by investigators for the special counsel, according to the reports, and Federal Bureau of Investigation agents have traveled to Israel to interview employees about the proposal and have asked Israeli police to seize computers from Psy-Group's Petah Tikva offices.