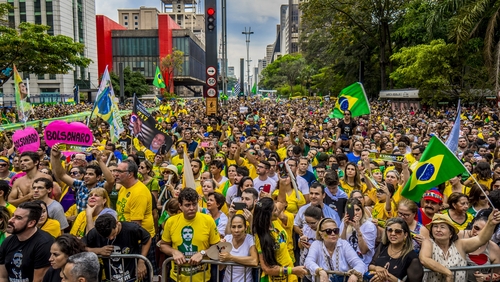 Brazil's far-right candidate Jair Bolsonaro has increased his lead over leftist Fernando Haddad on the eve of Sunday's divisive presidential election, but they are deadlocked in a likely run-off vote on October 28, two polls showed on Saturday.
The congressman and former army captain commands 32 per cent of voter support ahead of Sunday's election.
But perhaps more tellingly, Bolsonaro's share of valid votes shot up to 42.6 percent from 35.3 percent, putting him tantalizingly close to Brazil's first initial-round electoral victory since 1998.
On Friday, Bolsonaro appealed to Brazilians to vote for him in a live Facebook feed from his Rio de Janeiro home, asking them to give him a majority to avoid a second vote.
About 26 percent of voters say they have yet to decide who to vote for, according to a Datafolha poll released on Thursday.
Leftist Guilherme Boulos said he feared a new military dictatorship would begin with a Bolsonaro presidency.
National pollsters Datafolha had predicted Tuesday, 2 October that the two Brazilian presidential frontrunners are likely to dispute the run-offs on 28 October in case no candidate wins a majority in the first round to be held on Sunday, 7 October (HuffPost Brazil, in Portuguese).
In the TV interview, Bolsonaro slammed Haddad for being a "puppet" of jailed former president Luiz Inacio Lula da Silva. Bolsonaro has a long history of making racist, misogynistic and homophobic comments, and has risen in the polls since September 8 when he was stabbed while campaigning. It would also block efforts to legalise abortion, drugs and gay marriage.
Brazil's presidential election race entered its last 48 hours on Friday, with far-right front-runner Jair Bolsonaro recovering from a near-fatal stabbing that kept him out of the final presidential debate on the country's largest network, TV Globo.
Brazilian markets have rallied on the prospect of Bolsonaro stopping a return to power by the Workers Party.
The signs that Bolsonaro is gaining momentum drove Brazil's stock index up to a near five-month high and its currency to its strongest level in nearly two months on Wednesday.
However, he pledged to keep state oil company Petroleo Brasileiro SA, known as Petrobras, and lender Banco do Brasil SA in government hands.