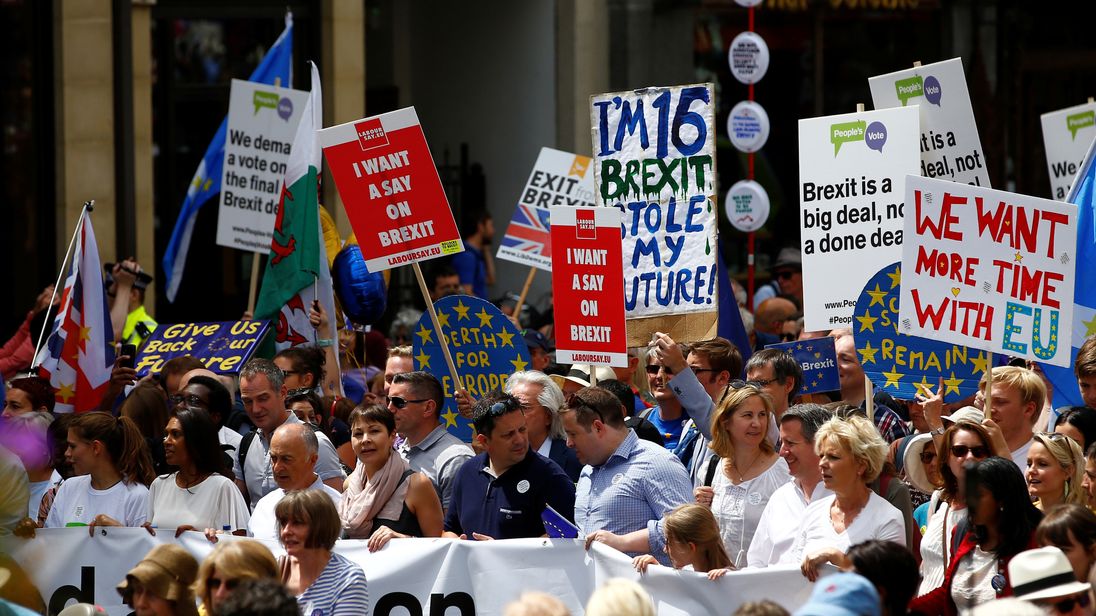 The Brexit-supporting Lord attacked Remainers for destroying the UK's "confidence and mojo" and told John Pienaar that the government had not handled Brexit well.
"But two years later, all we've got are broken promises, an economy that's already feeling the strain of Brexit and a government paralyzed by internal divisions", he said.
"The younger people in this country, many of whom will be out there marching today, are going to have to live with these decisions", he said.
Lib Dem leader Sir Vince Cable, Green co-leader Caroline Lucas, Labour former NEC member and actor Tony Robinson and pro-EU campaigner Gina Miller were among those who joined the crowd in the capital on the second anniversary of the European Union vote.
Labour MP for Tottenham David Lammy said Boris Johnson's remarks were "no longer humorous" after the Foreign Secretary wrote in The Sun about the public not wanting "some bog roll Brexit, soft, yielding and seemingly infinitely long".
People's Vote March Crowds.
Campaigners against Brexit want another referendum, which they call a "people's vote", to bail on leaving.
Speaking on BBC radio, Jurgen Maier, head of German manufacturer Siemens in Britain, said slogans such as "full British Brexit" - used by Johnson - were "incredibly unhelpful". Smaller parties, including the Greens and the centrist Liberal Democrats, support having a new Brexit vote.
Theresa May has been urged by hardline Brexiteers to speed up preparations for a "no-deal" Brexit to put pressure on Brussels during withdrawal negotiations.
The British government and business leaders clashed in a deepening row over Brexit on Sunday after a senior minister accused companies of issuing "completely inappropriate" threats and undermining the prime minister. Brexit is not inevitable.
Mr Williams said: "In total, Airbus generates 100,000 jobs in the UK".
International Trade Secretary Liam Fox told the BBC the European Union needs to understand that Britain is willing to walk away from the Brexit talks without agreement if necessary, because "no deal would be better than a bad deal".
The UK is yet to define exactly what it wants in its future relationship with the EU.
BMW has previously warned about the damage of Brexit uncertainty, and in May chief executive Harald Krueger said the company had to remain "flexible" about production facilities. A paper setting out the U.K. government position on future relations, due to be published this month, has been delayed until July because the Cabinet can not agree on a united stance.
That would mean trade barriers between Britain and the EU.
On Friday, Airbus and BMW said that if the United Kingdom were to leave the European Union without a deal, it would be forced to reconsider its long-term position, putting United Kingdom jobs at risk.