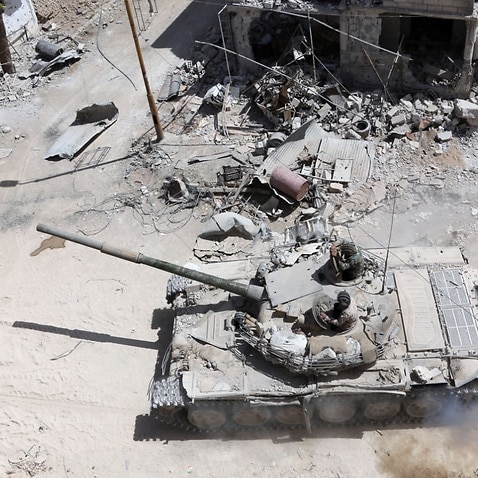 "All terrorists have left Douma, the final of their holdouts in Jap Ghouta", state information company SANA quoted a military spokesman as saying Saturday, utilizing the regime's standard time period for rebels.
An army statement read by chief military spokesman Brig.
The Syrian army has declared that all anti-regime forces had left Eastern Ghouta, almost two months into a blistering offensive on the rebel enclave on the outskirts of the capital.
According to the Syrian Observatory for Human Rights, a Britain-based monitor, at least 1,700 civilians have been killed in bombardment on the enclave in eight weeks.
The demonstrations broke out early Saturday following a wave of U.S., British and French military strikes to punish President Bashar Assad for suspected chemical attack against civilians.
A team of experts from the Organisation for the Prohibition of Chemical Weapons is now in Damascus and expected to investigate the site of the alleged chemical attack. The government's capture of Douma, the last town held by the rebels in eastern Ghouta, marks a major victory for Assad.
The Islamist group Jaish al-Islam insurgent group, which was in command of Douma, has stated it exclusively agreed to depart due to the Syrian authorities's purported use of poisonous chemical substances on Douma, which medics stated killed greater than 40 folks.
Jaish al-Islam members have not responded to CNN for comment, and has stopped posting statements on its online accounts in recent days.
Syria and Russian Federation have each denied utilizing chemical weapons and stated the claims had been fabrications used to justify Western army motion.
The two-month assault on Eastern Ghouta sparked an worldwide outcry, with the head of the United Nations describing the conditions endured by civilians there as "hell on Earth".
The General Command said that engineering units immediately began canvassing squares, streets, and corridors to clear mines and IEDs planted by terrorists in the city, in order to enable the rest of the units to secure liberated areas and prepare them for the return of civilians to their homes safely. But its fighters and their families have been seen leaving Douma on buses and have been photographed arriving at refugee camps in northern Syria.
Hundreds of civilians who fled the offensive have already returned to areas beforehand retaken by the military and allied forces. It's not clear if the country was hinting that it could intervene to stop the USA and its partners or if it was referring to the possibly irreversible humanitarian and terrorist consequences that would inevitably follow the crippling of Syrian forces in the event that such a large-scale attack took place, but regardless, it shows that Russian Federation is taking the latest round of escalations real seriously.