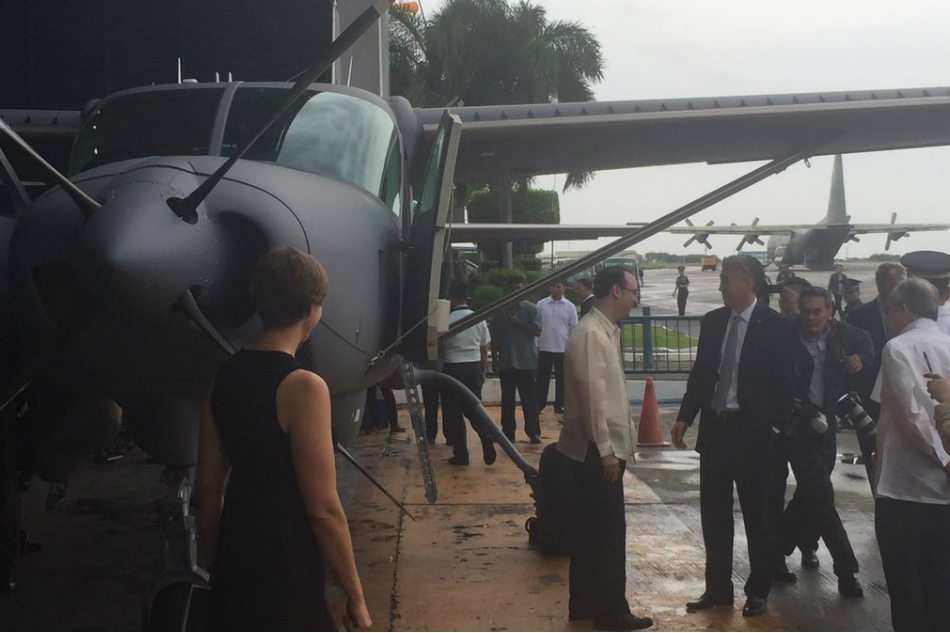 Gen. Bryan Fenton presented the two new Cessna 208B aircraft to Defense Secretary Delfin Lorenzana during a transfer ceremony at Villamor Air Base.
The United States on Thursday transferred to the Philippines two brand-new, single-engine surveillance planes, boosting the capability of its former colony to patrol sprawling maritime borders, including pirate-infested southern waters.
The Cessna planes can carry 4 people - two pilots and two sensor operators - and will be used by the Air Force's 300th Air Intelligence and Security Group based in the Edwin Andrews Air Base in Zamboanga City. "These are not spy planes, only surveillance aircraft, because they are not stealth".
For its part, U.S. Ambassador Sung Kim said the planes are equipped with modern, sophisticated cameras and receivers.
"I am overwhelmed at what can they do to support the Armed Forces' operations on the ground, air and naval operations, as well as in humanitarian assistance and disaster response (HADR)", Defense Secretary Delfin Lorenzana said when formally accepting the airplanes from the USA late Thursday.
The US has also flown P3 Orion surveillance aircraft over Marawi while US Special Forces troops based in the southern region of Mindanao have been operating drones, both aimed at helping Philippine forces locate the well-entrenched militants in fighting that has claimed more than 600 lives.
He also said the U.S. had recently delivered arms and ammunition, including bombs, rockets, pistols and grenade launchers.
The planes, worth about $2 million each, can also be used against Islamist militants in Marawi City on the southern island of Mindanao.
A crisis has gripped the city for more than two months now since firefights between state troops and Islamic State-linked terrorists erupted on May 23.
United States special forces have been spotted near the combat zone offering "technical assistance".
"We really want to help AFP as much as we can, as they go through the very hard situation in Marawi, as they also continue to strive to develop the military in the long term", Kim said. "We did not have any beforehand", Lorenzana told reporters.
"For this kind of surveillance plane this is the most modern that we have. Wala naman tayo kasing state of the art", said Lorenzana of the aircraft.
The US has continued to provide aid and military assistance to the Philippines, despite President Duterte's open distain for the country.
The donation came on the heels of President Rodrigo Duterte's statement during his second State of the Nation Address on Monday demanding the return of the Balangiga bells to the country.
Asked to comment on the President's stance towards the US, Cayetano said Duterte values the Philippines' relationship with its long-standing ally.