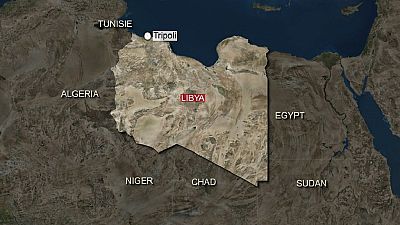 More than 100 migrants were missing after their boat sank off the coast of Libya in what might be the worst tragedy in the Mediterranean this year, aid agencies said Thursday. This has prompted many migrants to make the unsafe journey by sea to Europe in search of refuge.
Also Friday, Libyan authorities transferred dozens of migrants rescued from the disaster to a detention center near Tripoli that was hit by an airstrike earlier this month despite United Nations objections to such a move, the United Nations refugee agency said.
One of the survivors, from Eritrea, said his vessel started to capsize after an hour of sailing.
Around 300 people are believed to have embarked on the risky sea crossing from the Libyan port city of Al-Khums, 80 miles east of Tripoli, UNHCR spokesman Charlie Yaxley said. All responses will be treated with the confidentiality that they deserve.
Italy's far-right Interior Minister Matteo Salvini has objected to the existing arrangement because most of the rescued migrants and refugees were brought to Italian ports.
The UN has repeatedly said people rescued in the Mediterranean should not be sent back to Libya because of the conflict and the inhumane conditions in which migrants are kept, the BBC's Imogen Foulkes reports.
Thursday's shipwreck was "the worst Mediterranean tragedy" so far this year, said.N.
The EU released a statement Friday saying it was deeply saddened by the tragedy off Libya's coast and added that "sustainable solutions for search and rescue are urgently needed in the Mediterranean".
In January, some 117 died or went missing off Libya's coast and around 65 people drowned after their boat sank off the coast of Tunisia in May.
Migrants stuck in a boat waiting for rescue.
Qasim told AFP news agency that most of those rescued from the sea were from Ethiopia, while others were Palestinians and Sudanese.
Libya, which has been wracked by chaos since the 2011 uprising that killed president Moamer Kadhafi, has always been a major transit route for migrants, especially from sub-Saharan Africa, desperate to reach Europe.
Earlier this week, Libyan coast guard officials intercepted over 30 migrants and shifted them to a detention centre near Tripoli where an airstrike had killed more than 50 people on July 3.
Migrants come from across Africa to Libya to make the journey across the Mediterranean Sea, often exploited by human traffickers on unsafe ships. Rights groups say those efforts have left migrants at the mercy of brutal armed groups or confined in squalid detention centers that lack adequate food and water.
The U.N.'s death toll did not include those reported missing at sea Thursday.