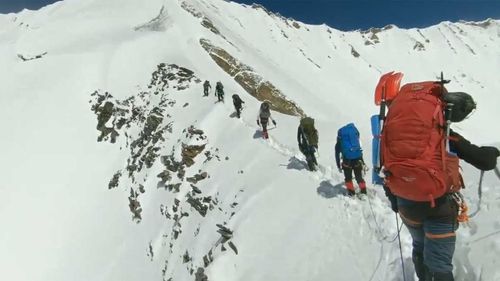 The video was found on a "memory video device" near the Nanda Devi East, the Indo-Tibetan Border Police (ITBP) said Monday, which showed the group of climbers moving slowly near the summit on the unnamed peak.
Authorities in India have released video taken by a group of worldwide climbers shortly before they died on a Himalayan mountain.
The mountaineers went missing on May 25 and seven bodies were brought down by the ITBP from about 19,000 feet to a lower base only on July 3, following which helicopters moved them to Pithoragarh.
Australian climber Ruth McCance.
The body of the team leader and noted British mountaineer Martin Moran has not been found till now. The camera, which was carried by the final climber in the line, was later found buried in snow near where seven bodies were uncovered.
Meanwhile, the Indo-Tibetan border police who carried out the unsafe recovery mission have been congratulated at a ceremony for their efforts in the search.
"Suddenly we notice a loud noise. The video went blank and stopped", police spokesman Vivek Kumar Pandey told AFP.
ITBP officials say the sound could be of an avalanche or snow storm that claimed the lives of eight climbers.
Indian police deputy inspector general APS Nambadia said: "It was mesmerizing for us to see the footage".
"The GoPro has proved to be like the black box of an aircraft giving an insight into the last few moments of the climbers", added Nambadia, who said the search for the bodies at a 20,000-foot altitude was "extremely challenging".
The GoPro footage shows the climbing party at Nanda Devi.
The eighth climber remains missing after the search was suspended due to harsh weather.
2019's climbing season was particularly deadly on Mount Everest, with 11 people killed on the world's tallest mountain this year.
A 15-member ITBP team of climbers clocked about 500 hours spanning more than 15 days in its recovery mission.
Eight climbers traverse a snow ledge on an unclimbed peak of India's second-highest mountain, a bright sun shining down.