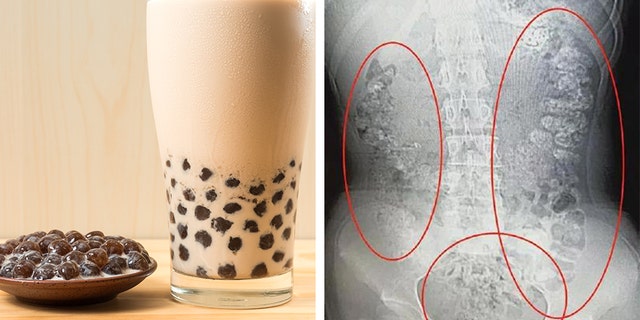 At first, the girl was reluctant to answer questions about her bubble tea habits.
Most things are better in moderation - and that apparently includes bubble tea.
AsiaOne, citing Chinese media outlets, reported a 14-year-old girl from Zhejiang Province - located in eastern China just south of Shanghai - complained of having stomach aches and feeling constipated for several days until her parents took her to the hospital.
The sheepish teen told her doctors she had drunk pearl milk five days earlier, but specialists concluded that so many undigested pearls would have been "caused by drinking for a while".
In China, a teenage girl was hospitalized after doctors found over 100 bubble tea balls trapped inside her stomach.
The unlikely culprit? Too much bubble tea. Tapioca's starchy nature is what likely led to the build-up in the girl's stomach, says Niket Sonpal, M.D.an internist and gastroenterologist in New York City.
A CT scan revealed about 100 "unusual spherical shadows" which doctors realised were undigested tapioca pearls from bubble tea.
Thankfully, the girl was able to get laxatives to get her digestive system back in shape, Asia One noted.
Another doctor observed that the tapioca balls in the tea were made out of starch and hard to digest.