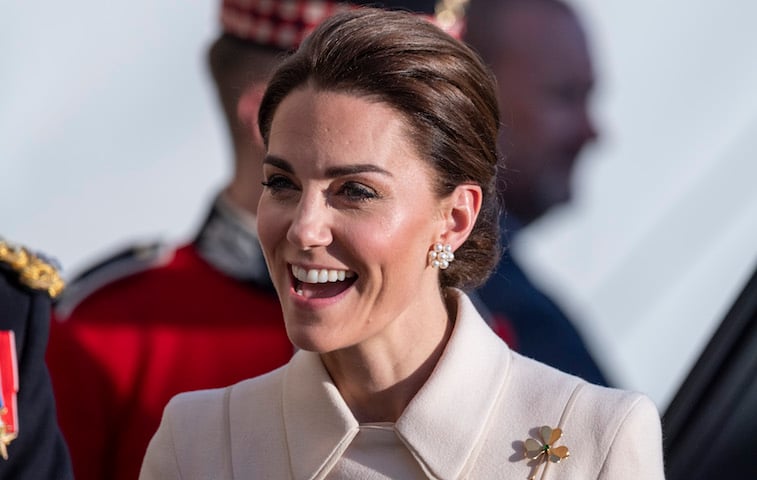 Prince William and Kate Middleton made a few four-legged friends during their visit to Cumbria on Tuesday.
Before the dinner - which was held at the stunning restaurant Spring, Somerset House - Kate met with Action on Addiction clients who are working as apprentices in the kitchen.
The pair got stuck into life on the farm, also giving herding and dry stone walling a go. But Prince William, who is second in line to the throne, was interested to know whether Brexit was a big concern for the sheep farmers he was speaking to.
Sam Rawling, who runs a farm in Ennerdale which has been in his family for 500 years, said he was surprised farmers had voted for Brexit.
He said farmers would be hit by export tariffs and by a "black hole" in subsidy payments. "They have got to do other things to survive".
Kate's experience with Action on Addiction has helped lay the groundwork for her work and understanding on mental health, and is now helping inform her work in developing a major project around support for children in their earliest years.
'That's why I think it's so important that all of us, whether we are parents or carers or family members, really engage in quality time with our children and babies from a really young age'.
"I said, "This is Paddy, obviously that's Max, and this one's Prince Harry, and he (William) laughed, he said, 'Oh yes, I remember you telling us about that".
Later in the day, Kate and William joined the Cumbria Wildlife Trust and children from Patterdale School for an environmental educational session on the Ullswater Way.
The Duchess of Cambridge was seen greeting locals in Keswick Market, where she also stopped to pet three very cute dogs.
While meeting the locals, Kate and William also came across a seven-month-old English Springer Spaniel called Prince Harry of Winterfells.
After sampling local cheese from market stall holders, they spent an hour talking to residents involved with organisations supporting communities and families across Cumbria. "Maybe we should lend you Lupo".