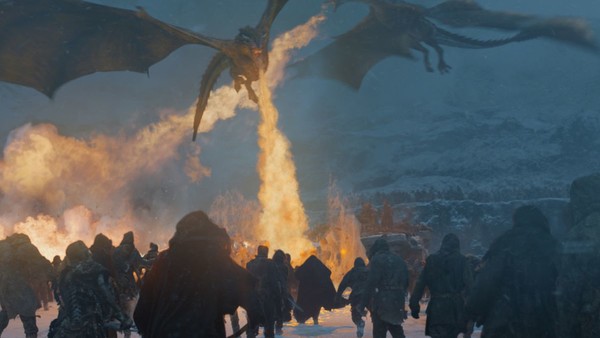 Now, finally, we are in season 8, which marks the culmination of nearly a decade-long journey.
Meantime, the Game of Thrones' spin-off with the working title Bloodmoon has reportedly started filming in Belfast. Something like that. Anyway, that's why watching footage of Game of Thrones' Kit Harington losing it in this new trailer for the show's upcoming documentary is just about to do us in.
The two-hour doco is set to air in the USA on May 26 - a week after GoT's final episode, with an Australian screen-date to be confirmed.
Game of Thrones: The Last Watch will have a two-hour runtime and cover season eight production, but looks like it is so much more than that.
We all know that showrunners David Benioff and D.B. Weiss love to keep secrets from us, so we expect The Last Watch to reveal all of the nitty-gritty details that were hidden from us. In addition, there will be some pretty serious bets placed on one of the largest events in TV history, so if you're into that sort of thing, make sure you choose wisely when putting down some hard earned cash. In the meantime, be sure to check out our recap of the penultimate episode of the show, leading us into the series finale. We see Emilia Clarke (Daenerys) hugging it out after her last shot.
The trailer for The Last Watch opens with the cast sitting around for the final table read, and Kit Harington who plays our lover Jon Snow bursts into tears.