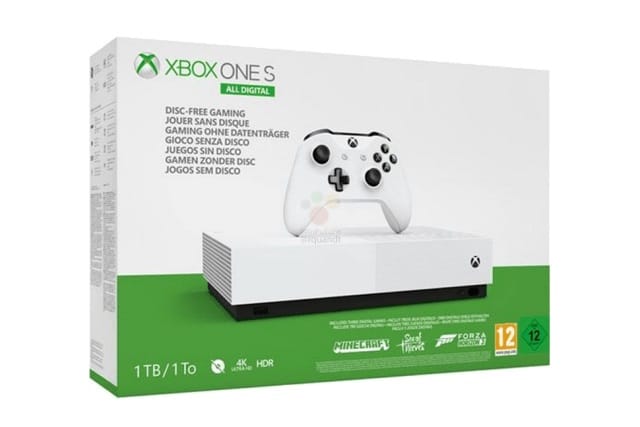 The Xbox One S All-Digital console, Microsoft's first disc-less Xbox, is reportedly getting unveiled this week.
WinFuture.de images look very much like the renders we saw last month; however its packaging shots include full descriptive text rather than placeholder type and text boxes.
The marketing images show an Xbox One S that looks nearly identical to the current model minus the black slot in front for the optical disc drive. Then you see the phrase "Disc-Free Gaming" in various European languages. With support for 4K Ultra HD videos, this storage space could also be eaten up by movies.
Now a German site has not only confirmed the system's release but also revealed that it'll ship with Minecraft, Forza Horizon 3 and Sea of Thieves pre-installed.
According to the source, Microsoft will launch the Xbox One S All Digital tomorrow, at a special event.
All signs point to Microsoft unveiling the next-gen Xbox at E3 2019 in June, and Microsoft may want to avoid potentially confusing the market by making a big hubbub about its all-digital Xbox One S so close to E3. WinFuture quotes an MSP of €229.99 in Europe which equates to £199.99 in the UK.
Again, we must stress that Microsoft has yet to officially announce the all-digital Xbox One S, but the leaks have remained pretty consistent with one another. In other words, we could be looking at a quarter of the price shaved off.