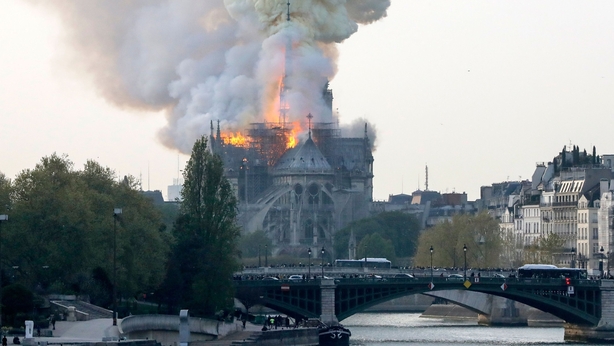 Firefighters are battling a massive blaze at the French capital's iconic Notre Dame cathedral. Videos and photographs are being shared widely online showing flames and smoke billowing from the 850-year-old Catholic church.
The BBC reported that renovation work is underway at the cathedral, which was built between 1160 and 1260.
Some scaffolds can indeed be seen close to the flames leaping out near the cathedral's spire.
It is unclear whether anyone has been hurt.
"So awful to watch the massive fire at Notre Dame Cathedral in Paris", President Trump tweeted as the fire burned.
The fire may be connected to the recent restoration of the church, officials said.
The Prefecture of Police sent a tweet asking people to avoid the area.
The cathedral is one the finest example of French Gothic architecture in Europe, and one of the most visited buildings in the world.
President Emmanuel Macron cancelled an address to the nation that he had been due to give later on Monday evening. "I invite everyone to respect the security perimeter".
The figures regular posts look over the Paris from Notre Dame's 96-meter-high peak. Perhaps flying water tankers could be used to put it out.