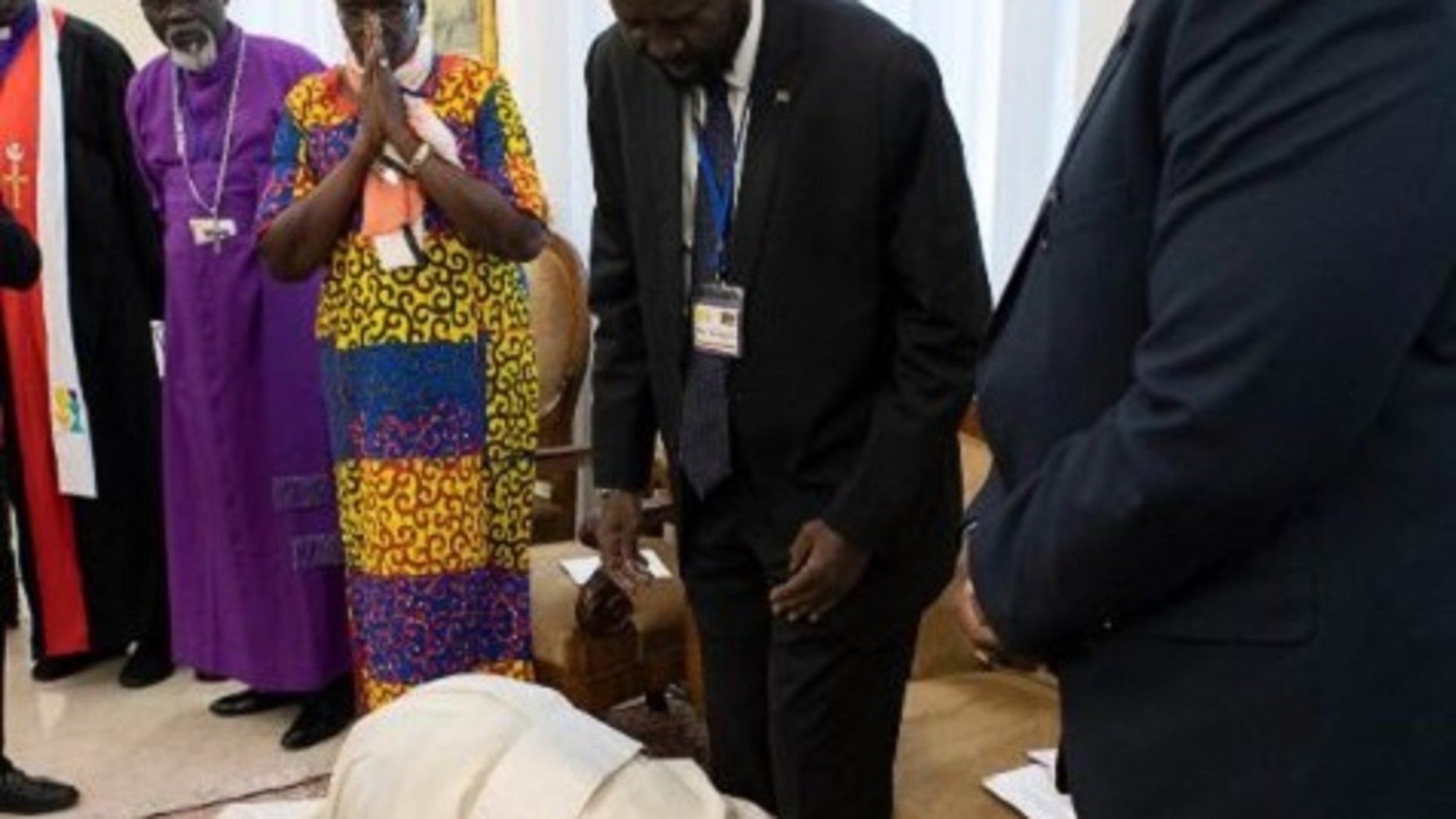 Pope Francis kneels to kiss the feet of South Sudanese President Salva Kiir Mayardit at the Vatican.
Progress in implementing the peace agreement in South Sudan has been "way short" of expectations, the body responsible for monitoring it said on Friday, a day after Pope Francis urged the warring factions to achieve a lasting peace. I ask you from my heart, let's go forwards.
South Sudan gained independence from Sudan in 2011; by December 2013, the country had devolved into a civil war that killed at least 400,000 people and displaced millions. South Sudan plunged into civil war two years later after Kiir, a Dinka, fired Machar, from the Nuer ethnic group, from the vice presidency. "There will be many problems, but do not be afraid", he told the leaders, speaking without a text at the end of the meeting. Following the military takeover in Sudan, concerns are being heard that the fragile peace might be in peril.
The pope was there for the two leaders and three other vice presidents to uphold an armistice they signed to form a unity government next month.
"Peace is the first gift that the Lord brought us, and the first commitment that leaders of nations must pursue", he told them.
Peace is possible. I shall never tire of repeating this: peace is possible! "Tears were flowing from my eyes", she said.
In his address earlier on Thursday, Francis said South Sudan's people were exhausted by war and the leaders had a duty to build their young nation in justice.
"So we need to establish adequate security from the two forces so that our people can have confidence that this agreement will hold".
The retreat was the idea of Anglican Archbishop Justin Welby of Canterbury, spiritual leader of the Anglican Communion, who attended the final part of the gathering. "So, as simple citizens, you will become fathers of the nation." .
In a report by Reuters, it was gathered that the event played out Thursday, April 11, during the pope's short retreat at the Vatican.