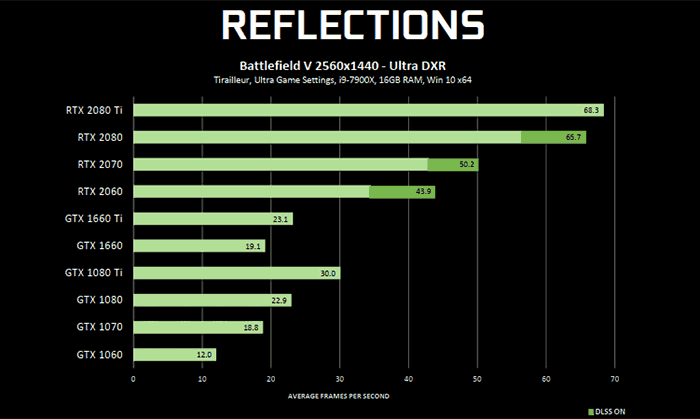 The new driver should be available at GeForce.com (or from GeForce Experience) by the time you read this.
Ahead of this driver release, NVIDIA has put out some of their own performance numbers. What that means is even though a card like the GTX 1070 (5783 GFLOPS) theoretically has more computational power than the GTX 1660 (5027 GFLOPS), in numerous tests the GTX 1660 ends up being faster with ray tracing-and the more ray tracing that's used, the better the Turing cards do relative to Pascal, so for example in Atomic Heart and Star Wars Reflections, the 1660 even outperforms the GTX 1080.
This all sounds well and good on paper; Nvidia's ray-tracing tech has until now been reserved for its flashy GeForce 20-series RTX graphics cards, with the GPUs' underlying Turing architecture boasting dedicated RT cores for handling the complex calculations ray-tracing needs. These are far less computationally intensive and will not necessitate RT Cores depending on how game devs have implemented these effects.
Thanks to Nvidia's latest GeForce driver, this functionality is now available on all of the firm's GTX cards from the Pascal GTX 1060 6GB. The game is rumoured to be in development hell. And while they're harmless enough, they are all done at 1440p with everything cranked up to Ultra quality, so they do present a sort of worst case scenario for cards without RT hardware. Unhelpfully, all of Nvidia's graphs are for 2560×1440 performance on High or Ultra settings - something they themselves previously warned simply wouldn't be possible on a GTX card when they first announced this actually happening. According to Walker, Nvidia hasn't been focused on bringing SLI support to ray tracing.
Overall the new driver is being released this morning at the same time as this news post goes up - 9am ET.
The Nvidia GeForce GTX series of GPUs from the GTX 1060 upwards will now support ray tracing.
Most of the benchmarks at this time come from Nvidia itself, but the results aren't very impressive. New driver branches are some of the most interesting driver releases from NVIDIA since these are normally the break points where they introduce new features under the hood, so I'm eager to see what they have been up to since R415/R418 was first released back in October. Some ray tracing-enabled games, for example, use lighter ray tracing techniques, such as the reflections in Battlefield V and the shadows in Shadow of the Tomb Raider, while others turn it up to eleven with every advanced shadow / reflection technique going. And while there are now only three games featuring ray tracing effects, NVIDIA has released three tech demos for you to try.
NVIDIA also talked about the addition of real-time ray tracing and Deep Learning Super Sampling (DLSS) to Justice, one of China's most popular MMOs. What I'm being told is that Reflections and Justice will be hosted directly by NVIDIA, whereas Atomic Heart will be hosted off-site, for anyone keeping the score.
Finally, NVIDIA is also calling attention to a reflections tech demo that we have seen before.