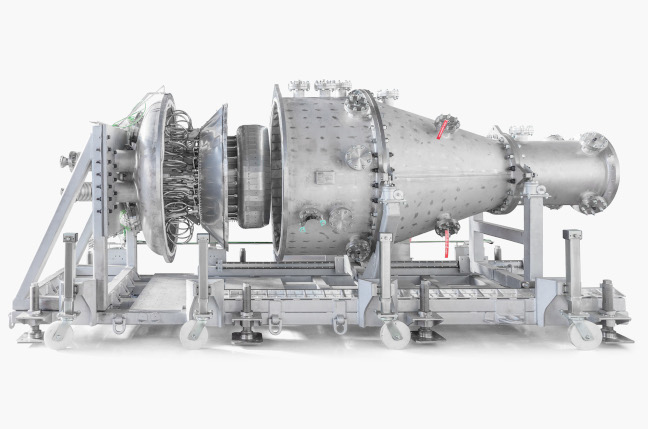 Reaction Engines' precooler heat exchanger successfully passed the test objectives set out in the first phase of high-temperature testing.
The time milestone reached in testing is equivalent to flight speeds of Mach 3.3, or more than 2,500 miles per hour, the company said.
Reaction wants to build a reusable vehicle combing the speed and power of a rocket with the efficiency of a jet engine, capable of traveling at 25 times the speed of sound and into and out of space.
The company's ultimate ambition is to incorporate the pre-cooler into its experimental Sabre engine.
Instead of huge multi-stage rockets, a relatively light plane will take off from a conventional runway and reach space in a single journey without a pilot.The engine could also make possible passenger flights from London to Australia in just over four hours - and drive airliners with twice the speed of Concorde.
Reaction, based in Oxfordshire, believe that the aircraft could travel the distance between NY and London in less than an hour when running at it's proposed top speed.
They hope to get their SABRE engine precooler to the point where it can handle air temperatures in excess of the 1,000 degrees Celsius (~1,800 degrees Fahrenheit) experienced at Mach 5.
The breakthrough test was conducted at the company's newly opened TF2 test facility at Colorado Air and Space Port.
There are three core elements to the Sabre engine; the pre-cooler, the engine core that has a a smart thermodynamic cycle to manage heat and fluid flow, and the thrust chamber situated at the rear.
It would then switch to burning liquid oxygen and liquid hydrogen from on-board fuel tanks, allowing it to reach 25 times the speed of sound to enter space.
It did this by successfully quenching a 420°C (788°F) stream of gases in less than 1/20th of a second.
This is a significant milestone, but the SABRE engine is still just a concept.
"This is a hugely significant milestone which has seen Reaction Engines' proprietary precooler technology achieve unparalleled heat transfer performance", said Mark Thomas, Reaction Engines' CEO.
At high speeds and at high altitude, it would transition to full rocket mode, combining the fuel with the oxygen carried inside.
"This provides an important validation of our heat exchanger and thermal management technology portfolio which has application across emerging areas such as very high-speed flight, hybrid electric aviation and integrated vehicle thermal management".