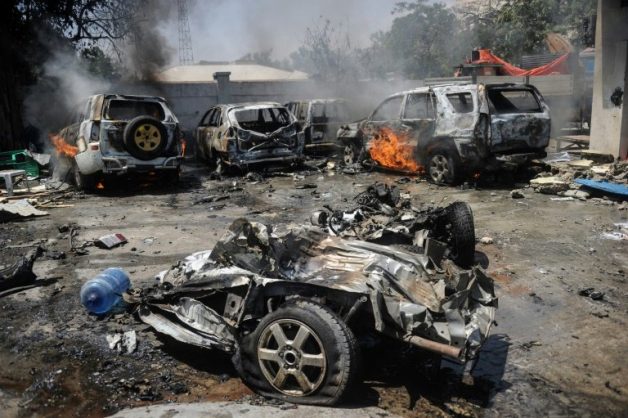 During that time, the Africa Command claims it killed ZERO civilians - but Amnesty said data it had analyzed revealed that isn't the case.
United States strikes in Somalia have surged in the past two years, since President Trump signed an executive order on 30 March 2017 declaring southern Somalia an "area of active hostilities".
"In addition to this first-hand testimony, the report draws on several types of evidence, including analysis of satellite imagery and data, photographic material, interviews with government officials, medical personnel and other experts, and an open-source investigation including analysis of traditional and social media, academic articles, and reports from NGOs and worldwide bodies", Amnesty said. "Our procedures - combined with precision-strike capabilities, weaponeering and 18 years of amassed battlefield experience - help us safeguard civilians and civilian infrastructure", the official said.
"Our assessments found that no AFRICOM airstrike resulted in any civilian casualty or injury".
The U.S. army also said it was aware of reports alleging civilian casualties resulting from this airstrike, promising to investigate any information on civilian casualties.
In March 2017, President Donald Trump approved greater authorities for military operations against Al-Shabab, allowing increased strikes in support of the African Union Mission in Somalia (AMISOM) and Somali forces.
"The civilian death toll we've uncovered in just a handful of strikes suggests the shroud of secrecy surrounding the U.S. role in Somalia's war is actually a smokescreen for impunity", said Brian Castner, Amnesty International's Senior Crisis Advisor on Arms and Military Operations. Worryingly, the General also believes that the Executive Order widened the net of potential targets to include virtually any adult male living in villages sympathetic to Al-Shabaab and seen in proximity to known fighters. According to Amnesty, US forces carried out 34 strikes in 2017 following Trump's declaration, more than in all the previous five years since 2012 combined. This increased again in 2018, to 47 strikes; and there have already been 24 in the first two months of 2019 alone.
Amnesty International was "very suspicious" of the military's consistent claims it wasn't killing any civilians in airstrikes, Eviatar said.
The parameters for command airstrikes are that they must be in secluded, low-populated areas, and all must comply with the laws of armed conflict.
In a response to the AI report, AFRICOM said "BG Buldoc's [sic] purported articulation of targeting standards does not accurately reflect the targeting standards of AFRICOM or the [Department of Defense]".
"The US government must ensure investigations into all credible allegations of civilian casualties are carried out, with accountability for those responsible for violations and reparation made to the victims and survivors", said Ella Knight, Military, Security and Police Researcher at Amnesty International.
Because of the security situation in the targeted area neither the Amnesty team nor the USA military was able to do on-the-ground investigations into the results of the strikes. "We saw it in Iraq, we saw it in Syria, and now we're seeing it in Somalia". So far more than 230 militants have been killed in 2019, compared to 338 killed in all of 2018.
Amnesty said a truck carrying suspected al-Shabab militants exploded, killing five civilians, including two children, in secondary explosions and fires. Al-Shabab also uses civilians and civilian homes and businesses as shields for their efforts, they added.
The study of Amnesty is based on 150 interviews including witnesses, family members of those killed and security experts.
The Pentagon says the air attacks are meant to target al-Shabab militants. The military reported it did strike a vehicle laden with explosives a week later in an area 56 kilometers away, but asserted no secondary explosions occurred.
"We exercise restraint as a matter of transparency", the official said.