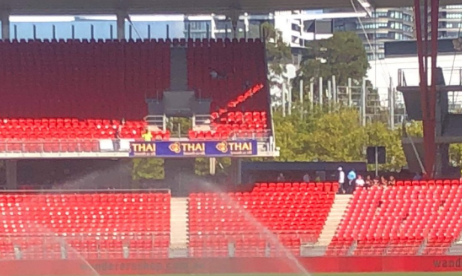 Refugee footballer Hakeem al-Araibi will not be sent back to Bahrain after Thailand dropped extradition proceedings against him on the Gulf State's request, a prosecutor said Monday.
Al-Araibi was jailed and beaten in Bahrain during a crackdown on pro-democracy athletes.
The news will delight Al-Araibi and his supporters, who have launched a global campaign calling for his release.
Mr Araibi was granted refugee status in Australia after fleeing charges in Bahrain connected to Arab Spring protests but was stopped in Thailand in November attempting to go on his honeymoon.
In November past year, he and his wife flew to Thailand for their honeymoon, believing his Australian visa allowed him to travel safely, but they were detained immediately when they landed at Bangkok's Airport in response to an Interpol "red notice". He has been living in Melbourne, where he plays for a semi-professional football team.
He was sentenced in absentia to 10 years for vandalising a police station.
The Bahraini government had insisted that he should be treated as a simple fugitive and will have an opportunity to appeal his conviction in the country's courts.
On Monday evening, Foster tweeted his thanks to Thai Prime Minister Prayut Chan-o-cha and his Government. He says he faces torture if returned to Bahrain.
"We had a phone call from the Foreign Affairs Ministry this morning and they said Bahrain doesn't want him anymore", Chatchom told BBC.
Chatchom added that the process to release Araibi is under way.
Federico Addiechi, a representative of Fifa, football's world governing body, attended a Feb 4 hearing and said the organisation would continue to support Mr Araibi.