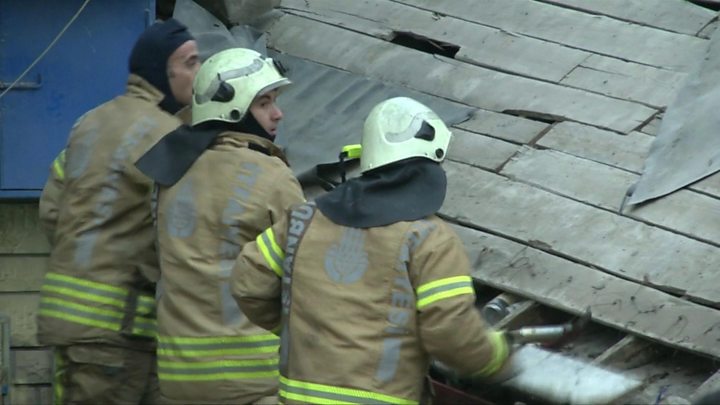 The incident was a stark reminder of the fragility of parts of Istanbul's residential infrastructure, with several buildings collapsing in recent years. Eyewitnesses told local news station NTV that people were still trapped under the debris. It said 13 others, including a five-year-old girl, were injured.
Experts from the Istanbul branch of the chamber of civil engineers who visited the site concluded that the "load-bearing columns had lost the capacity to carry the weight" of the building, the group said in a statement Thursday.
Some residents have been trapped inside the wreckage, but officials haven not provided the exact number of people under the rubble.
Security camera footage broadcast on HaberTurk television showed several people, including schoolchildren with backpacks, running away from the site as the building tumbled down and a cloud of dust engulfed the area about 4 pm.
However, Mr Kurum told reporters that some apartments had guests at the time of the collapse, without providing details.
As she was placed in an ambulance, a person in the crowd chanted "God is great" before the child was taken to hospital.
On the heels of the dramatic rescue of the 5-year-old, rescue efforts at the apartment are ongoing.
At least three people have been found dead in the rubble, and 13 people - including Tekgoz - have been rescued.
The warning came on the anniversary of the August 17 1999, magnitude 7.4 quake that killed more than 17,000 people in northwestern Turkey.
The building, which had 43 people living in 14 apartments, had a street-level ground floor and seven higher floors, Istanbul Gov. Ali Yerlikaya said, adding that the top three floors had been built illegally.