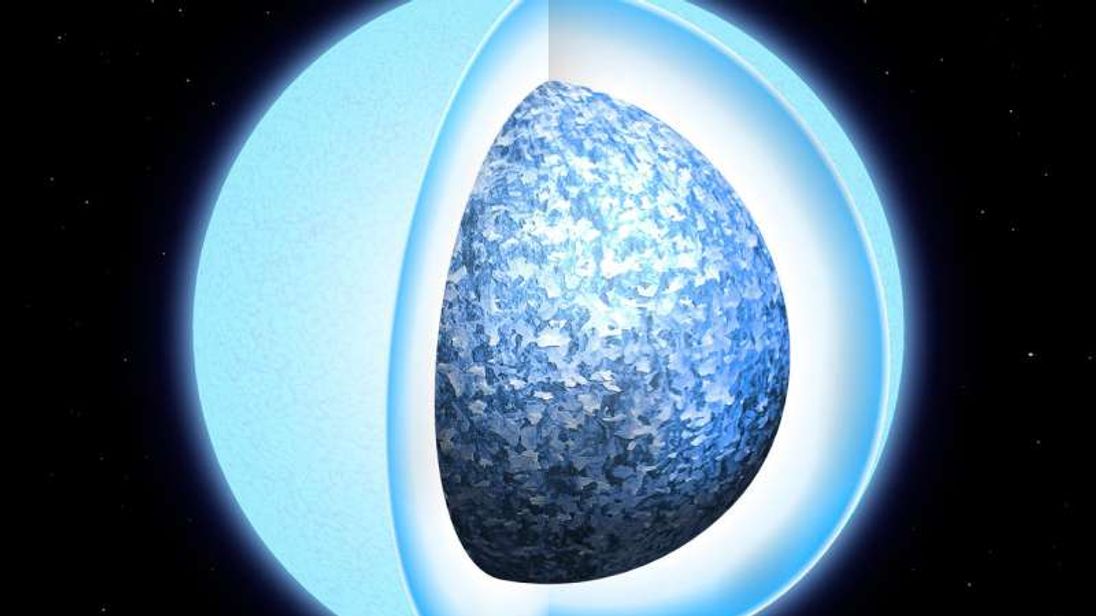 For the first time scientists have found evidence that ancient dying stars, known as white dwarfs, transform into diamond-like globes which still burn intensely enough to glow brightly in the sky.
"Previously, we had distances for only a few hundreds of white dwarfs and many of them were in clusters, where they all have the same age", says Pier-Emmanuel Tremblay from the University of Warwick, UK, lead author of the paper describing the results, published today in Nature.
'It was predicted fifty years ago that we should observe a pile-up in the number of white dwarfs at certain luminosities and colours due to crystallisation and only now this has been observed.
Dead remnants of white dwarf stars have a core of solid oxygen and carbon.
When the transition occurs, the atoms in the super dense interior of the star form into an ordered structure and solidify, in a similar way to how liquid water transitions into ice.
Many scientists thought it was likely that white dwarf stars would form crystals as they cooled, but there was disagreement about whether the energy released from the process would be detectable, Tremblay said. We believe this is due to the oxygen crystallizing first and then sinking to the core, a process similar to sedimentation on a river bed on Earth.
The analysis revealed a "pile-up" of stars with the the same color and luminosity but with different masses and ages.
Our sun is now a yellow dwarf star.
The team in Warwick studied 15,000 white dwarf candidates within around 300 light years of Earth and measured their colour and luminosity for clues about their composition. As for our Sun, the researcher and his colleagues estimate that it will undergo the crystallization process in around 10 billion years, give or take.
A scan of the heavens has shown space is littered with the crystallized remains of stars, and our own sun is expected to go the same way, too. Models suggest there are millions of solidified white dwarfs spinning throughout the cosmos.
One of Discover's favorite space artists and regular contributors, Mark Garlick, created this impression of a white dwarf star solidifying to accompany the announcement.
Dr. Tremblay added that all white dwarfs will eventually crystallize, meaning that "billions of white dwarfs in our galaxy have already completed the process and are essentially crystal spheres in the sky". Before Gaia we had 100-200 white dwarfs with precise distances and luminosities - and now we have 200,000.
"We realised that this was not a distinct population of white dwarfs, but the effect of the cooling and crystallisation predicted 50 years ago". "This experiment on an ultra-dense matter is something that simply can not be performed in any laboratory on Earth".