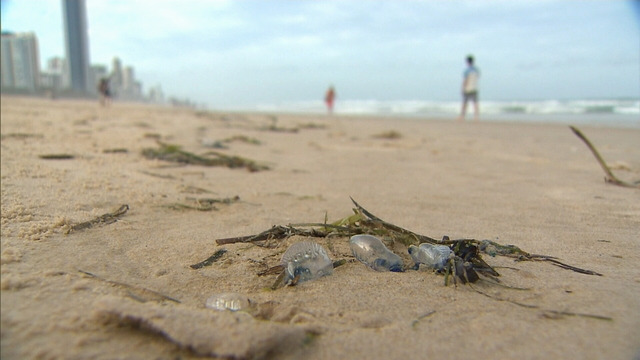 Several Australian beaches have closed down amid a risky invasion of highly venomous jellyfish that have stung more than 3,000 people in just a few days.
Bluebottle jellyfish are around 15cm long and often appear along the Queensland coast in the summer but the number of people stung this year is three times higher than normal.
About 13,000 stings were recorded in the past week - three times more than in the corresponding period a year ago.
Twenty-two people have been taken to hospital with suspected Irukandji stings in Queensland so far this season.
Surf Life Saving duty officer Jeremy Sturges said: "I have never seen anything like this-ever".
Speaking to ABC, AMSAS director Dr Lisa-ann Gershwin said some swimmers who were hospitalised after suffering a suspected allergic reaction to a bluebottle sting may have actually been hit by the bluebottle's larger relative, which boasts multiple stingers - and can cause symptoms easily mistaken for anaphylactic shock.
Unusually strong northeasterly swell conditions pushed the bluebottles onshore and they are clumped in their thousands along the shoreline. More than 13,000 stings were recorded in Queensland alone last week, with more than 2,500 people seeking treatment over the weekend, according to rescue organizations.
Most of the encounters happened in the popular Gold Coast and Sunshine Coast regions.
The jellyfish activity forced the closure of busy beaches.
The epicentre has been the popular beaches on the Gold Coast and the Sunshine Coast in the state of Queensland, but beaches in New South Wales, Victoria and Tasmania have also been affected. "If stung, ensure you see a lifeguard to be treated with ice or hot water".
She said "a really weird run" of strong winds and heat spells had brought bluebottle jellyfish and other species closer to shore.
"A bluebottle has that sail that sticks up - so the wind grabs the sail and drives them ashore", Dr Gershwin told the BBC.