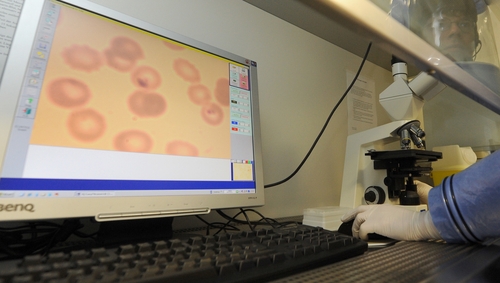 The patient's identity is still unknown, but is now in isolation at a University Hospital in Uppsala.
The man was transferred to an infection clinic in the Uppsala hospital on Friday, after checking himself into a hospital in nearby Enkoping several hours earlier.
It did not say where the patient had travelled, but Sweden's TT news agency said the patient had returned from a trip to Burundi three weeks ago and had not visited any region with the Ebola virus.
Test results were expected to be published on Friday evening.
There is no known Ebola outbreak in Burundi, but it borders Congo, which has been fighting an outbreak for nearly six months.
Ebola is a viral haemorrhagic fever and symptoms include vomiting, diarrhoea, fever, sore throat, muscular pain, headaches and both internal and external bleeding.
A suspected case of Ebola has been reported at a hospital in Sweden. The largest outbreak was one in 2013-2016 in West Africa, where more than 28,000 cases were confirmed. The virus kills roughly half of those it infects, with better hospital care dramatically increasing patients' chances of survival.
Humans can become infected by Ebola if they come into contact with body fluids such as blood, urine and tears from an infected person or contaminated objects from an infected person.