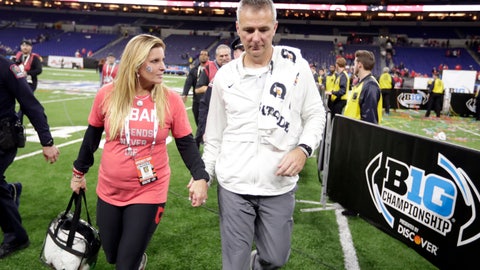 Offensive coordinator and quarterbacks coach Ryan Day will take over as head coach.
Meyer will step down after the Rose Bowl on January 1, the university confirmed Tuesday.
Ohio State coach Urban Meyer will retire after the team plays Pac-12 champ Washington in the 105th edition of the Rose Bowl game on New Years Day, the school said Tuesday. News conference at 2 p.m. today in Columbus.
Meyer will coach his last game in the Rose Bowl vs. Washington on January 1, 2019, and be succeeded by offensive coordinator Ryan Day.
It had been reported in late October that there was "friction" between Meyer/the football staff "and athletics leadership as well as within the program itself"; the head coach subsequently attempted to knock down that report, for what it's worth. An arachnoidal cyst in his head, first diagnosed in 1998, has caused severe headaches at times this season, including it appeared during some games in which he looked to be in pain on the sideline. Asked if he would definitely return to Ohio State next year, he answered, "Yes".
Meyer, 54, has won three national titles - two at Florida and one at Ohio State. This also isn't the first time Meyer has stepped away from coaching. Meyer's seventh season with Ohio State has been a controversial one that started with a three-game suspension for his handling of assistant Zach Smith's domestic violence arrest. He has gone 81-9 in seven seasons at OSU, and 185-32 overall including stops for two years at Bowling Green, two at Utah and six at Florida.