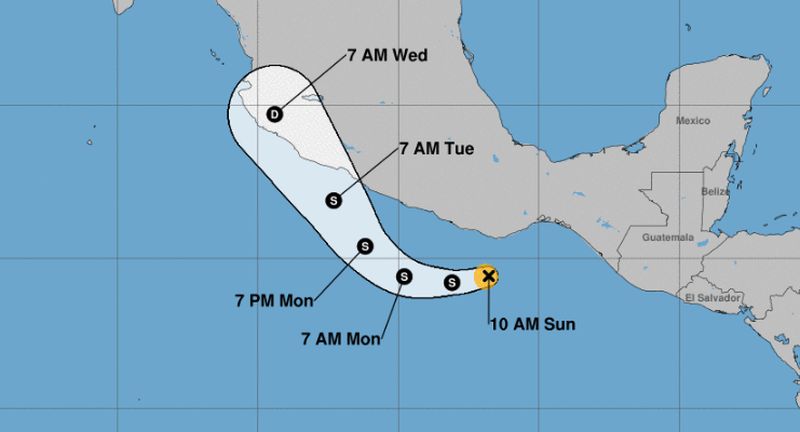 Newly formed Hurricane Willa rapidly intensified off Mexico's Pacific coast Sunday and early Monday and became a major Category 4 storm on the brink of turning into a Category 5, the National Hurricane Center (NHC) said. The US National Hurricane Center has warned that the storm system and could "produce life threatening storm surge, wind and rainfall" in Mexico on Tuesday.
"Willa is an extremely unsafe category 4 hurricane on the Saffir-Simpson Hurricane Wind Scale". Hurricane force winds extended out 25 miles from the storm's core and tropical storm force winds were up to 80 miles out.
Mexico has issued an alert for parts of its Pacific seaboard as it prepares for the "life-threatening" category five storm Hurricane Willa.
Hurricane Willa was about 270 miles (435 kilometres) south-southwest of Cabo Corrientes Sunday morning with maximum sustained winds of 100 mph (155 kph).
It had maximum sustained winds of 40 miles per hour and the centre of the storm would likely "remain just offshore or near the southern coast of Mexico through Tuesday morning", according to the NHC.
The center said it could produce 3 to 6 inches of rain along Mexico's southern Pacific coast and parts of Guatemala.
The NHC said "a risky storm surge" was also likely to affect coastal areas by Tuesday evening, adding that rain and strong winds would be accompanied by "large destructive waves".
A hurricane warning was posted for Mexico's western coast between San Blas and Mazatlan.
"There are no coastal watches or warnings in effect", said the NHC, but it stressed that "interests along the southern and southwestern coasts of Mexico should monitor the progress of Vicente".
It's predicted to weaken to a tropical depression status by Monday night before calming on Tuesday. It would also cause torrential downpours of about 70 to 150 mm of rain in parts of Southern Mexico with over 250 mm over pockets of Guerrero, Michoaca, Colima and Jalisco causing flash flooding and landslides.
Its core was about 230 miles (370 kilometers) southeast of Acapulco with top sustained winds of 40 mph (65 kph).