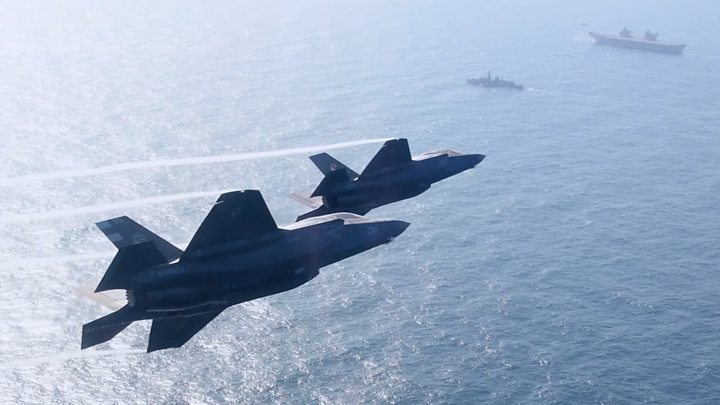 The entire global fleet of F-35s - including Marine Corps, Air Force and Navy variants - will stay on the ground while inspectors look at the airplanes' engines.
The U.S. military on Thursday grounded its entire fleet of F-35 stealth fighters after one of the jets crashed during a training mission in SC last month, officials said Thursday.
According to the Marine Corps Times, "investigators. suspect there is a widespread problem with the advanced fighter's fuel tubes".
The DOD said in the statement that if "good fuel tubes are already installed, then those aircraft will be returned to flight status".
He said inspections were expected to be completed within the next 24 to 48 hours.
Christopher Harrison, a Marine Corps spokesperson at the Pentagon, told The Island Packet and The Beaufort Gazette that the investigation of the crash prompted the government's decision to temporarily suspend flight operations.
A Marine F-35B crashed into an uninhabited marsh island near the Grays Hill community in SC on September 28. The pilot ejected safely.
The accident marked the first crash of an F-35 in the 17 years since Lockheed Martin won the competition for the fighter jet in October 2001 and teamed up with other contractors to begin production of the high-profile plane.
The Joint Program Office statement included "international partners" in the flight operation grounding, though the United Kingdom's Ministry of Defence tweeted they have only "paused some F-35 flying as a precautionary measure while we consider the findings of an ongoing enquiry".
The F-35 Joint Program Office has said safety is a top priority. The Pentagon didn't make public how many planes are affected.
The F-35 stealth jet has been called the most expensive weapons system in history, and its development was beset by multiple delays before it was deemed combat ready.
The Marine Corps declared the F-35B operational in 2015, becoming the first service to integrate the joint strike fighter into its fleet.
In a statement, the F-35 Joint Program Office said the U.S. and its worldwide partners had suspended flight operations while a fleet-wide inspection of fuel tubes was conducted.
The Marine Corps and Air Force have confirmed the grounding of their F-35s is a precaution so the aircraft can be inspected.
"The action to perform the inspection is driven from initial data from the ongoing investigation of the F-35B that crashed in the vicinity of Beaufort, South Carolina", DellaVedova said in a statement. But the problem has already been identified as faulty fuel tubes.