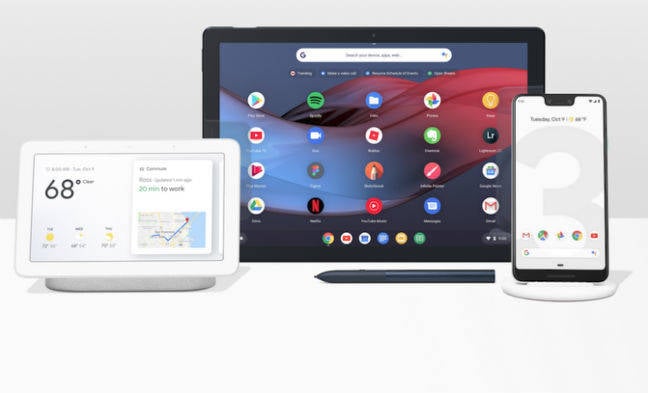 The Hub - launched today amid the official unveiling of Google's Pixel 3 and 3XL smartphones - is a semi-moveable dashboard with a screen that will communicate with smart home products from its Nest subsidiary as well as its music and TV services from YouTube and the central Google digital assistant.
But what about this years? So I was more than a bit perturbed when the Google Pixel C, introduced two years ago, was said to be Google's final Android tablet. There's no Bluetooth but just Wi-Fi 802.11ac.
Nearly all the technical details of the phones had been leaked before the event, but Google did unveil some clever new software features.
Also, unlike the limelight-craving Pixel 3 and 3 XL, which have been leaked all over the internet, there have not been any leaks of the Pixel Watch's design, suggesting there aren't any out there to leak. There is no headphone jack again on either of these two devices. The event ended with a short film by director Terrence Malick, which, you guessed it, was shot on the new Pixel 3. On the glass back, there's a fingerprint reader and one camera; on the front, there's a notch in the screen to hide its front-facing cameras. It has been created to blend in with your home - the screen automatically adjusts to the level and type of light in the room. Google claims this makes it the best low-light camera on the market, but we'll have to wait until we get one in for review to really make that decision. The interface offers up an app drawer, app dock, and a Google search bar like a phone or tablet, but apps like Google Chrome will you give the full desktop version when you need a better workstation. That is, if you're interested in getting cozy with robots in the first place. While a welcome addition, it's really not something new and, as some long-time Android owners may remember, a feature that used to be part of some older Android phones. Alongside it, they're now also selling a $79 wireless charging accessory dubbed "Pixel Stand" that essentially also turns your phone into a mini Smart Display.
The Pixel 3 does have a few things going for it, however. Also, the album cover of the now playing track will be displayed on the screen.
A Google Home Hub, Slate and Pixel 3 phone are pictured in an undated handout photo.
Google's fall event is upon us and the company's love affair with home tech is well represented by the all-new Home Hub.
Google's Pixel Slate, meanwhile, comes in at a relatively modest $599, but has only an Intel Celeron under the hood paired with a measly 4GB of RAM and 32GB of storage for that price.
With the Pixel 3, Google has finally added Qi wireless charging. Unfortunately, only time can tell on that.
You can purchase the 3rd Gen Chromecast from the Google Store here.