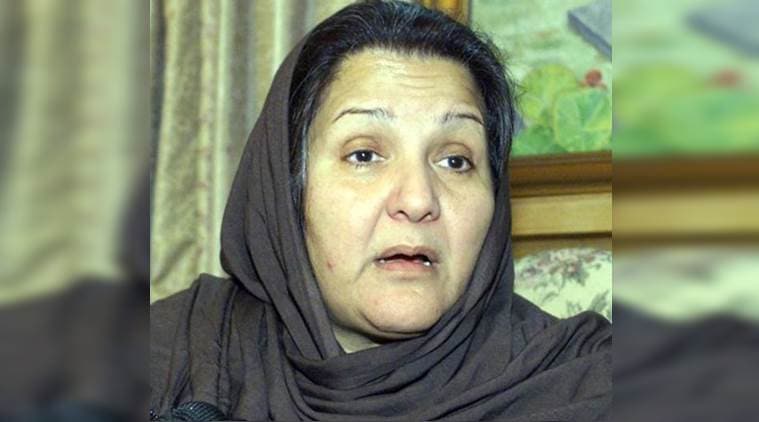 Begum Kulsoom, wife of jailed former Prime Minister of Pakistan Nawaz Sharif, died on Tuesday in London after a prolonged illness, Pakistan Muslim League-Nawaz president Shehbaz Sharif said.
Her husband and former prime minister, Nawaz Sharif, along with her daughter Maryam Nawaz is serving a jail sentence at Adiala Jail in Rawalpindi.
But after Sharif was first imprisoned following a military coup in 1999, Kulsoom Nawaz stepped into the limelight, Farouq said.
Nawaz Sharif was disqualified from holding public office by the Pakistan Supreme Court in the Panama Papers case. Both are now serving jail sentence with Maryam's husband Captain (retd) Muhammad Safdarin Adiala Jail in Rawalpindi after being convicted by an accountability court in a corruption case in July.
Army Chief Gen. Qamar Jawed Bajwa also expressed grief over Kulsoom's death and extended condolences to her family.
Geo News reported that the health of Kulsoom, who was admitted at London's Harley Street Clinic for cancer treatment in June, deteriorated last night.
The deceased leaves behind four children: Hassan, Hussain, Maryam and Asma.
Kulsoom Nawaz stood against Musharraf regime when he put her husband behind bars.
Begum Kulsoom Nawaz had emerged victorious with 61,745 votes while Pakistan Tehreek-e-Insaf s (PTI) Dr Yasmin Rashid remained the runner-up with 47,099 votes.
The three-time first lady was diagnosed with cancer in August 2017, and suffered a heart attack on 14 June.
But she was not sworn in as she was already overseas for cancer treatment.
Nawaz Sharif and his daughter were arrested on July 14 in Lahore in connection with a corruption scandal related to offshore properties.
In her absence, Maryam ran her campaign instead.
Pakistan People Party Chairperson Bilawal Bhutto Zardari and former president Asif Ali Zardari also condoled with the Sharif family.