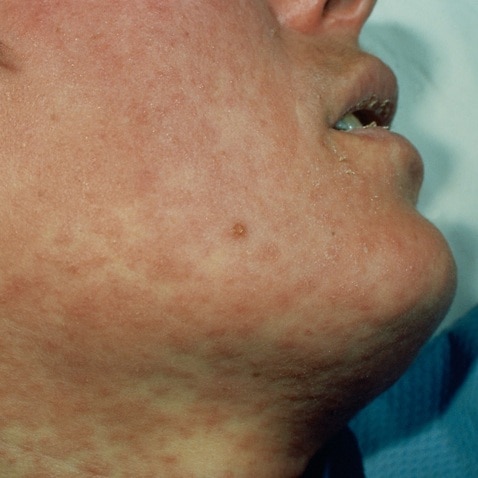 Serbia and Ukraine saw the biggest outbreaks over the last 12 months - both had more than 600 cases per one million of population. Ukraine has been hit the hardest, with over 23,000 people affected; over half the regional total.
The health agency said measles outbreaks have killed at least 37 people in the European region so far this year.
Measles is a highly infectious viral disease which can be spread through coughing or sneezing.
The nation's main health body also said the highly infectious disease was spreading partly because many young people weren't vaccinated against measles in the early 00s. Nine out of ten people who are not immune and share living space with an infected person will catch it.
Dr Mary Ramsay, head of immunisation at PHE, said: "The majority of cases we are seeing are in teenagers and young adults who missed out on their MMR vaccine when they were children".
This number is already higher than any year since 2010.
In 2016, a study by eBioMedecine revealed that France was the country in the world that was most skeptical about vaccinations, with 41 percent of those surveyed saying they felt that vaccines were not "safe".
She added: "First year students especially are at increased risk of meningococcal infection if they are unvaccinated - which makes sense when they spend large amounts of time with new people in confined environments such as university halls".
The WHO said that high coverage rates at national level, also disguised huge variations in vaccination rates at the community level that allow the disease to flourish.
Catching the disease is rare once immunized with the MMR vaccine, however, dubious allegations of side effects caused by the vaccination - such as causing autism - has resulted in some parents avoiding getting their children vaccinated. The WHO has urged every country to keep pushing to increase vaccine coverage - even after achieving interruption or elimination of the disease to prevent further countries falling back into endemic status.
According to the World Health Organization, at least a 95 percent immunization rate is needed to protect against outbreaks; the overall rate across the 53 European countries was 90 percent in 2017, but dipped below 70 percent in some communities.
Dr Paterson said that understanding the reasons why people are failing to vaccinate is key to controlling the disease.