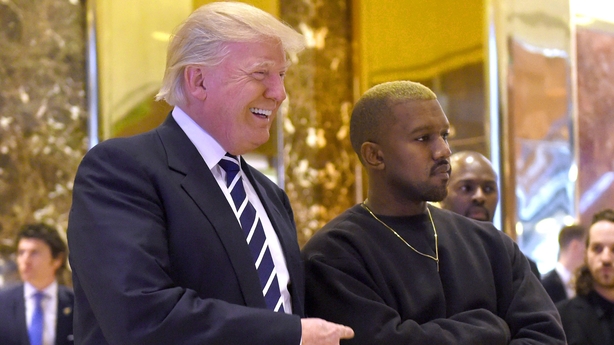 "I wasn't stumped. I wasn't given a chance to answer the question", Kanye tweeted.
By now, you should have undoubtedly heard about Kanye West's big interview on Jimmy Kimmel Live!
Musician Kanye West, left, and host Jimmy Kimmel appeared on the set of "Jimmy Kimmel Live!" in Los Angeles. When they returned, West didn't answer the question. Record producer DJ Clarke Kent actually tweeted the news saying he had been in the studio with West when the artist said to "let that new "XTCY' joint go!"
During Thursday's JKL episode, Kimmel reminded West about his infamous 2005 moment when he said President George W. Bush "doesn't care" about black people during a telethon to raise money for Hurricane Katrina victims. And it takes too much ownership, but you can replace pride with love.
On Twitter, West explained "The question was so important I took time to think". "Not every question warrant an immediate answer".
"That interview showed strong personalities with different opinions having a civil conversation", he continued. "I appreciate Jimmy and his team", Kanye wrote.
On Saturday, Kanye took to Twitter to "clarify the clickbait".
West has been a vocal supporter of President Trump and has been a recipient of backlash because of it.
"You got a sister-in-law you would smash?"
He also landed in hot water this May when he said slavery "sounds like a choice". I got four of them, ' he rapped.
Tatum praised West on "Fox & Friends" for not backing away from his Trump support.
West said in a song that he told his wife, Kim Kardashian West, that she could leave him after the slavery comments but that she decided not to. I got more of 'em/ You got a sister in law you would smash?