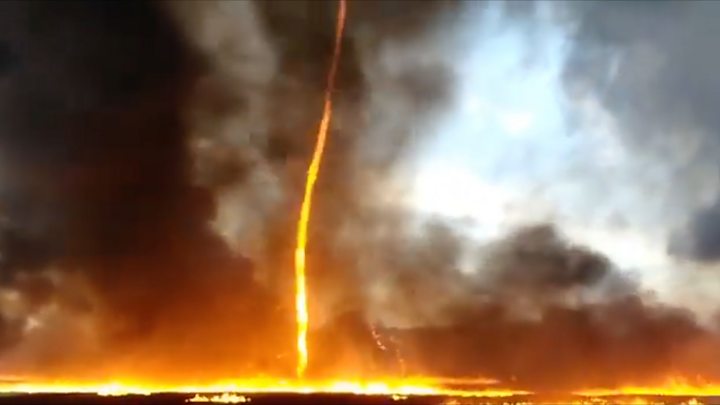 This particular "firenado" happened when a plastics factory - which makes bread trays for the whole of the United Kingdom - went up in smoke in Derbyshire near Manchester.
In the horrifying footage, the "firenado" is seen swirling as firefighters rushed to the scene.
United Kingdom firefighters witness a rare fire tornado as they tackle a fire at a plastics factory in the village of Woodville, Derbyshire. The column of fire forms when eddies caused by the blaze lead to a powerful rotating updraft.
Leicestershire fire and rescue service shared the video on Facebook, saying: "While we were firefighting at Occupational Lane we witnessed a firenado or a fire whirl".
Officers from the fire services had been tackling the fire since about 1.20am on Tuesday at Ravensbourn Plastics Ltd on Occupation Lane, in Albert Village, Swadlincote.
Ten fire engines from three stations tackled the blaze, which involved approximately 100 meters x 100 meters of stacked plastic pallets.
At about 15:00, firefighters started damping down the fire.
Thick black smoke from thousands of plastic pallets on fire could be seen across the East Midlands.
No injuries were reported following the incident despite the video showing widespread damage and plumes of black smoke billowing into the air.
The "firenado" swept across the fields near the factory, as the fire sent dark plumes of smoke into the sky on Monday.