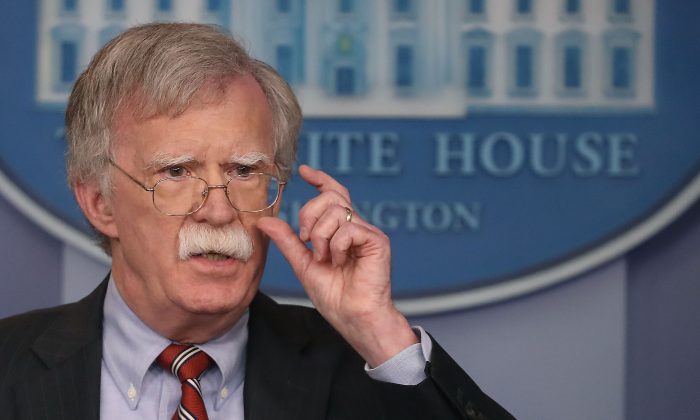 North Korea warned Thursday that there could be no progress in its denuclearization as it accused some senior USA officials of trying to strengthen worldwide sanctions on Pyongyang.
A statement from the nation's Foreign Ministry said that following President Trump's June summit with North Korean leader Kim Jong Un, the North has worked to improve relations between the two countries and "make active contributions to peace, security, and prosperity on the Korean Peninsula and over the world".
During landmark talks with US President Donald Trump in June, the North's leader Kim Jong Un signed up to a vague commitment to denuclearisation, far from the longstanding American demand for the complete, verifiable and irreversible dismantling of Pyongyang's atomic arsenal.
The two sides vowed at that time to work towards North Korea's denuclearisation but have struggled to reach a deal to meet that goal, with the United States insisting that sanctions pressure must be maintained during negotiations.
North Korea appears to continue dismantling a rocket launching site, a USA think tank said, based on satellite images.
The latest statement by the North's foreign ministry also accused USA officials of "going against the intention of President Trump" by "making baseless allegations against us and making desperate attempts at intensifying the worldwide sanctions and pressure".
North Korea and South Korea have agreed to start a joint survey of cross-border roads next week as part of efforts to modernise and reconnect them across their borders, the unification ministry said Friday (Aug 10).
"As long as the US denies even the basic decorum for its dialogue partner and clings to the outdated acting script which the previous administrations have all tried and failed, one can not expect any progress in the implementation of the DPRK-US joint statement, including the denuclearisation", it said.
"We expect the Russians and all countries to abide to the U.N. Security Council resolutions and enforce sanctions on North Korea", he said.
North Korea has condemned the United States for placing fresh sanctions on it and called on the country to respond to its efforts to improve bilateral ties.
"This is all in North Korea's court", Haley told reporters travelling with her during a visit to Colombia.
Washington has said that sanctions will not be lifted until Pyongyang fully and finally dismantles its nuclear weapons.