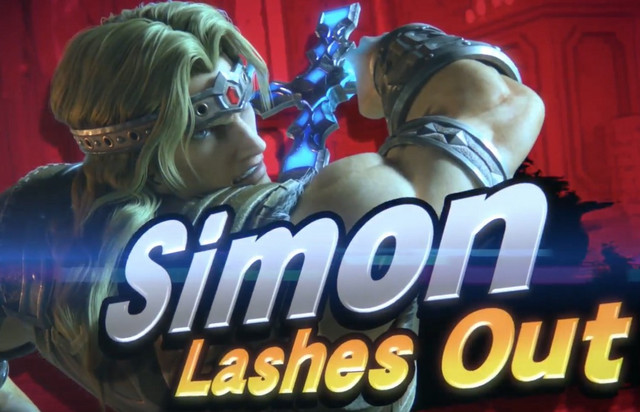 Simon Belmont is sporting his classic look from the 8-bit era and he wields all his traditional weapons, including the Vampire Killer whip, axe, cross, and holy water. The new Dracula's Castle stage is pretty fantastic, too, with tons of bosses from throughout the series along with a whopping 34 arranged music tracks. Up until now, each stage had its own music track. He's also bringing along his grandkid (or maybe great grandkid, or grand nephew, it's all kind of fuzzy) Richter Belmont, the main hero of Castlevania: Rondo of Blood. Both characters will be available as part of the game's burgeoning roster, and playable alongside previously-announced Echo fighter Richter Belmont.
King K. Rool: Well, here's a blast from the past! King K. Rool, a frequent foe of Donkey Kong, is joining the roster. But judging by the gameplay video, he may be the most adaptable heavyweight character yet: throwing his crown like a boomerang, blasting fools with a blunderbuss, and lacing up a boxing glove for some fierce close-up damage. Simon's descendant Richter will appear as an echo fighter, as will Dark Samus of Metroid fame. Some modes are being kept secret, but Sakurai spilled the beans on Squad Strike and Smashdown today. The classic Pokemon Stadium, Unova Pokemon League, Garden of Hope, Brinstar Depths, Summit, Magicant, Gamer, and Final Destination stages were all confirmed to be returning. As for stages, there are now 103, to which Sakurai said, "We must be insane". Here's a look at the full stage select screen...
Super Smash Bros. Ultimate will be released December 7 on Switch. Ultimate was renamed to "Bloody Tears/Monster Dance", two music tracks from the Castlevania series that date back to the original NES entry in the series. Tunes are tied to franchises, so, for instance, you can now listen to any The Legend of Zelda track you want when playing on a Zelda-themed stage.
In addition to these modes, Sakurai also announced that there will be a Tournament mode. A host of Assist Trophies are also being introduced, including Alucard from the Castlevania series and Rathalos from Monster Hunter, a character which can also double as a boss in some stages. Nintendo revealed the menu, and also said that it would contain a brand new mystery mode that they can not yet discuss.