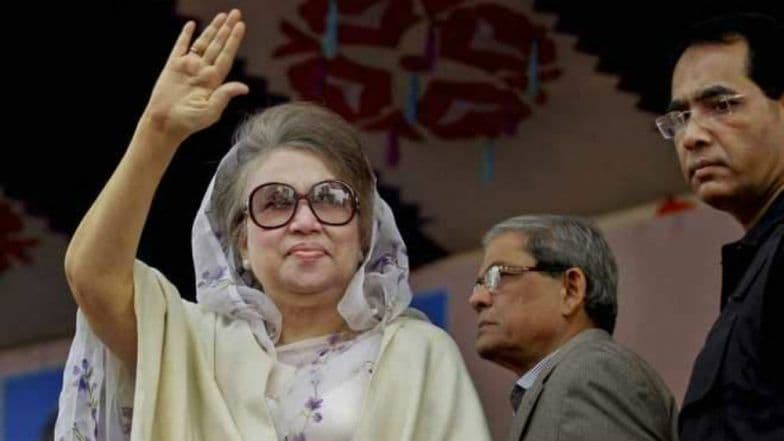 Bangladesh's former Prime Minister Khaleda Zia, serving a five-year jail term in a corruption case, was on Wednesday granted bail by the country's Supreme Court, which upheld a high court order in her favour.
The Supreme Court had earlier suspended the lower court's decision to grant Zia bail, prompting her Bangladesh Nationalist Party (BNP) to condemn the move as part of a campaign by Hasina to silence the opposition ahead of a looming national election.
The bail, however, does not allow Khaleda to get freedom from jail so soon, as she is named as an arrestee in other cases, lawyers said.
"Both the appeals are dismissed", said a four-member Appellate Division bench headed by Chief Justice Syed Mahmud Hossain, rejecting the appeals filed by the state and the Anti-Corruption Commission (ACC) against the High Court order.
The SC also issued an order to dispose of Khaleda's appeal petition challenging the lower court's verdict in the case by July 31.
ACC lawyer Khurshid Alam Khan told reporters that the Appellate Division has ordered the court to settle the appeal by July 31.
Yesterday the Appellate Division set today to pass its judgment in the appeal case, as it heard the arguments of Attorney General Mahbubey Alam again.
The other accused are former lawmaker Kazi Salimul Haque Kamal, businessman Sharfuddin Ahmed, Dr Kamal Uddin Siddiqui, and Khaleda's nephew Mominur Rahman. Therefore, she could not be granted bail on health grounds, he said.
Zia has been in the old jailhouse on Nazimuddin Road, Dhaka after she was convicted in the case.
Judge Kamrul Hossain Mollah of the Metropolitan Sessions Judge's Court passed the order after Khaleda's lawyer submitted 11 petitions seeking adjournment of hearings of the cases.
Following a hearing, the HC had already stayed trial proceedings of six cases. The other case was filed with a Dhaka court on charge of making seditious comments about the freedom fighters and the Liberation War martyrs.