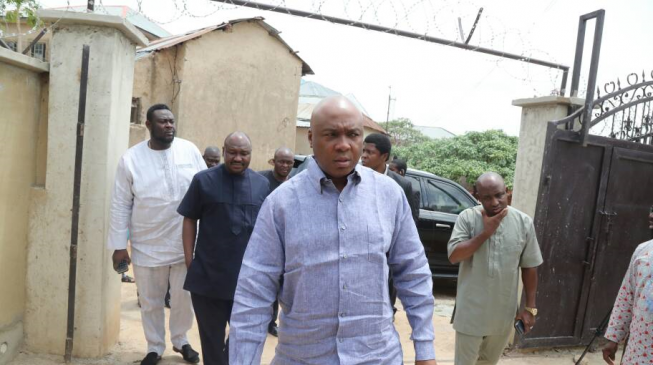 Speaking on the floor of the senate, Saraki told lawmakers that the governor of kwara state, Abdulfatai Ahmed has reliably informed him about how the IGP plans to link him to a group of cult suspects who are about to be prosecuted in kwara state were ordered by the IGP to be transferred to Abuja.
The Kwara State Police Command had last week paraded the son of a former Police image maker in Kwara State among six suspected.
The suspect, aka Askari, of 13, Ile Nda Compound, Emir's Palace Ilorin, was arrested on Tuesday after a manhunt for him over alleged killing of Yemi Bayero of Ago market, Ilorin.
The DPP who wondered why four out of the seventeen accused persons were transferred to Abuja observed that there were some notorious cases of cultism that have been successfully prosecuted in the state.
According to Mr Saraki, the report indicated that Mr Idris was planning to move some persons already investigated in the state to Abuja where they would be made to change their earlier statements and implicate him (Saraki) in criminal acts. I feel that as we speak now, these suspects are already here in Abuja.
He said the plot is an act of desperation, blackmail and crude tactics aimed at turning Nigeria into a Police state where top government officials can not be made to obey the law.
"I think it is important, I think this unsafe development, to your attention, country and the global authority of the impunity we are undergoing in this country and the danger to our democracy", he added.
Saraki said he felt obliged to share the information with his colleagues because of the gravity of the matter and the grave danger it portends to Nigeria's democracy. I have brought it to your attention and we must continue to play our own role in doing what we believe in the course of our duty.
The Police said the statement credited to the Senate President can discourage living victims and deceased families of those who must have been killed by the gang from coming forward to give evidence against them.
Other members of the delegation would included Senator Danjuma Goje, Senator Sam Anyanwu, Senator Aliyu Wammako, Senator Fatima Raji Rasaki, and Senator Oluremi Tinubu.
The Senate indicated its willingness to appeal the ruling, and applied for a stay-of-execution order.
Giving details of the refusal of the court to grant the request, Mr. Omo-Agege's media aide, Efe Duku, said the judge ruled that the application sought by the Senate bordered on the initial motion filed by Mr Omo-Agege.