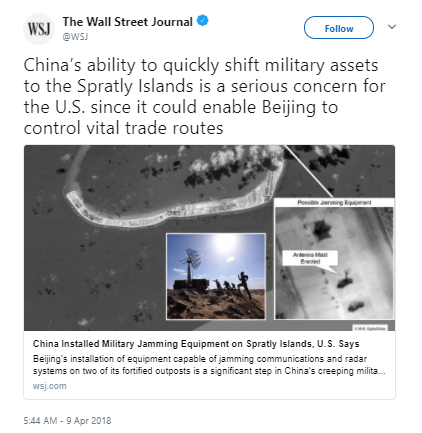 According to the US intelligence source of the news outlet, the new jamming equipment was installed within the past 90 days on Fiery Cross Reef and Mischief Reef.
The Chinese military has begun to deploy more defensive fortifications in the South China Sea's Spratly Islands, including technology capable of interfering with radar and communications systems, according to a new report. While Chinese military personnel are at the Spratly outposts and Chinese ships dock there, China has yet to station ground units or fighter planes on the artificial islands, USA officials say. The Philippines, Vietnam, Malaysia, Taiwan and Brunei all have overlapping claims in the strategic waterway.
The Wall Street Journal newspaper reported on Monday that China has installed military jamming devices in the area.
Pentagon is seriously concerned with China's ability to quickly transfer military assets to the outposts because it could enable the Chinese to control crucial trade ways, exclude other claimants from areas, and meddle with the US military's plans to defend Taiwan.
"China has built a massive infrastructure specifically - and exclusively - to support advanced military capabilities that can deploy to the bases on short notice", Adm. Harry Harris, the head of the U.S. Pacific Command, told the Senate Armed Services Committee in March, the Wall Street Journal reported.
A photo of a suspected jamming system was taken last month by commercial satellite company DigitalGlobe and it was provided to the Wall Street Journal.
Late last month, the Chinese Air Force conducted a series of exercises in the South China Sea and Western Pacific, where it sent advanced fighter jets and heavy bombers through Okinawa's Miyako Strait, labeling the exercises "rehearsals for future wars". The photo shows a jamming system on Mischief Reef. The Spratlys are home to seven Chinese-held man-made islands that it has fortified with deep-water piers, military-grade airfields, defensive weapons and barracks. The U.S. takes no position on competing sovereignty claims to naturally formed islands in the South China Sea, but we do strongly call on all countries to ensure their claims and activities are consistent with worldwide law.