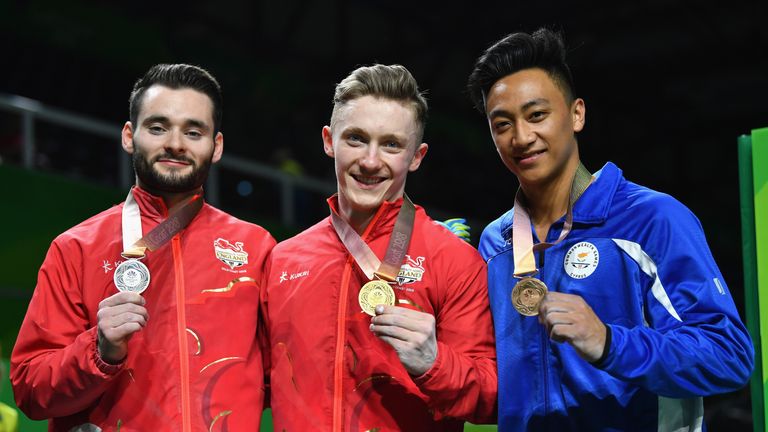 Swimming - Gold-coast 2018 Common Wealth Video Games - Adult Men's 100m Breaststroke Ultimate - Optus Aquatic Centre - Gold Coast, Australia - April 7, 2018. "To finish like we did, and get gold and silver, with one of the best high-bar routines I've put together - it's the best feeling".
Peaty remains unconquered in the 100m breaststroke since storming to gold at Glasgow four years ago.
Los Clos broke a Games record in winning gold, finishing in 1:54.00.
Out in 26.74, he had the edge on Cameron van der Burgh, the South African London 2012 Olympic champion whose last win over Peaty was in the Commonwealth 50m final back at Glasgow 2014.
For Wilby, the race brought a second medal after his gold in the 200m breaststroke on the opening night.
Only Australians Leisel Jones (100/200m breaststroke) and Petria Thomas (100m butterfly) have won three consecutive golds in the same event at the Commonwealth Games.
Le Clos won the 50m fly on Friday, but his bid to win five more medals and become the all-time leading Games medallist fizzled out when he missed the podium in the 200m freestyle and the 4x100m free. That's the first time ever where I've felt not in control of my race. "Obviously it was painful but I wanted to just make sure I was comfortably winning", he said.
Peaty is the dominant force in his signature event - he is the only man to have swum beneath 58 seconds and has the 11 fastest times in history - and he is eyeing glories for some time to come. Glaetzer had qualified fastest and set a Commonwealth Games record of 9.583 seconds in the process.
Australia's Cate Campbell won the women's 50m freestyle for her second gold of the Games, and Ariarne Titmus anchored the hosts to victory in the 4x200m freestyle.
His time in the final was some way short of his 57.13sec world record but he has been blunt throughout this week in explaining that his only priority in Australia was getting the win, rather than the speed of performance.
She finished ahead of Australia's Emily Seebohm in silver and Canada's Taylor Ruck in bronze.