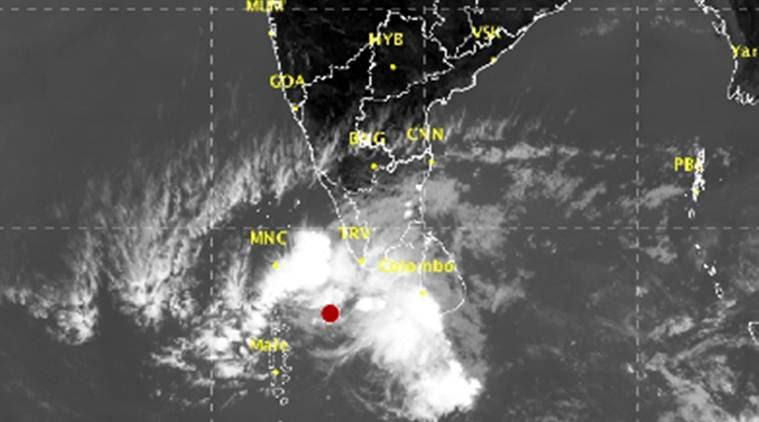 The coastal districts in Kerala remained on alert on Monday as meteorologists stepped up surveillance of the low pressure area hovering over the Indian Ocean, amid signs that the system would intensify into a depression. Heavy to very heavy rainfall is expected between Tuesday and Thursday (March 13 and March 15) in coastal areas of Kerala, Tamil Nadu and in Lakshadweep.
Warning that waves would be around 3 mts high and wind speeds would be anywhere from 40-60 kmph in the next 48 hours, the Indian Meterological Department said that it is not safe for fishermen to be out in the seas.
This would almost make for a playback of the situation evolving in November last that culminated in the development of very severe cyclone Ockhi over Lakshadweep and neighbourhood.
Rain or thundershowers are forecast at many places in South Kerala today and at most places with isolated heavy falls tomorrow before they cover the rest of the state on Thursday.
As a result of the depression, the IMD also predicted that heavy rains will be seen across the State for the next three days. The warning would be apply for along and off the rest of Kerala on Thursday.
The India Meteorological Department has classified it as a "very severe cyclonic storm", a designation for tempests with wind speeds reaching 137 miles an hour.
Following the forecast and in the face of choppy seas, State disaster management authority has warned fishermen against going out into the seas on the West of Sri Lanka, east of Lakshadweep and west of Kanyakumari and Thiruvananthapuram and in areas near to Maldives, till March 14.
According to IMD, sea condition will be rough to very rough over Comorin-Maldives area and adjoining sea areas during next 48 hrs and over Lakshadweep area and adjoining southeast Arabian Sea.