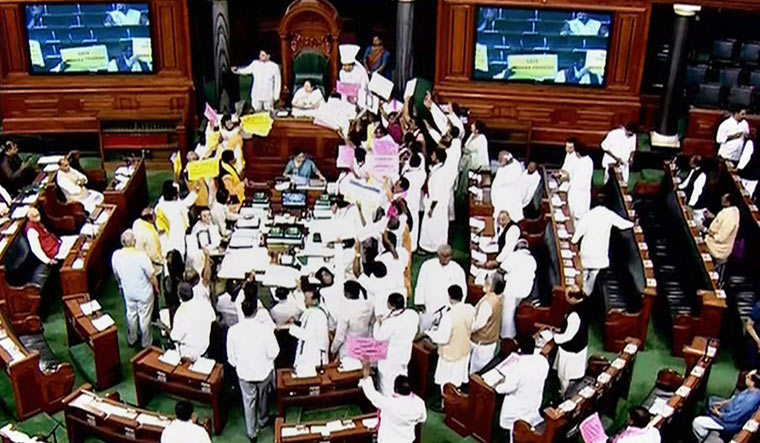 Not much business has been carried out since the second leg of the Budget Session of Parliament began on March 5, with the noisy protests stalling proceedings every day, barring for one hour on March 8, when members participated in a discussion to mark the International Women's Day in the Upper House.
The new law is different from the Prevention of Money Laundering Act, which also provides for confiscation of assets of economic offenders, he said.
The Economic Offenders Bill 2018 was introduced by Shiv Pratap Shukla, Minister of State for Finance, in the Lower House amidst din over the PNB scam. The offender will not be able to pursue any civil cases in India, a government statement said.
The Fugitive Economic Offenders Bill 2018 aims to impound and sell assets of fugitives such as Nirav Modi, who is alleged to be behind the almost Rs 12,700 crore fraud at Punjab National Bank. The proposed law will apply for economic offences with monetary value in excess of ₹100 crore.
It seeks to provide "an effective, expeditious and constitutionally permissible deterrent to ensure" that offenders are booked with banks and other financial institutions achieving high recoveries.
The bill provides for allowing the mandatory presence of two subscribers either in person or through video conferencing duly recorded by the foreman, while the bids are being opened.
The Bill is expected to bring to book absconding offenders such as Vijay Mallya and Nirav Modi who have allegedly refused to return to India from overseas, according to media reports.
As per the proposed Bill, the fugitive economic offender is defined as an individual who has committed a scheduled offence involving Rs 100 crore or above and absconded from India or refused to come back to avoid or face criminal prosecution. An administrator will be appointed to manage and dispose of the confiscated property under the Act.
Under PMLA, only profit of crime is confiscated and that too upon conviction.