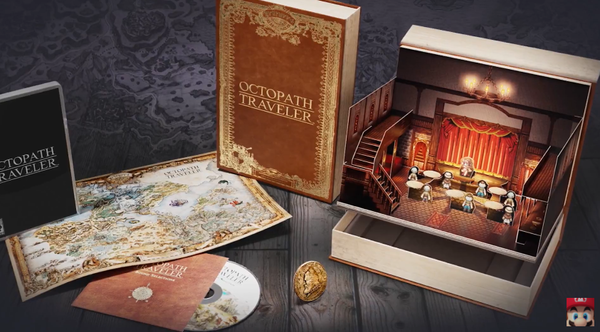 For fans of inventive JRPGs, Octopath Traveller will be one of the most highly anticipated games heading to the Nintendo Switch, coming form the minds behind the Bravely JRPGs on 3DS. In the latest trailer shown off during today's Nintendo Direct, we were introduced to two more characters who make up the eight primary adventurers with which the game's story revolves around. Using Purchase, Tressa can buy items from villagers that other heroes don't have access to.
Alfyn, the apothecary, is on a journey to heal the sick of the world. He can "warm" out information from other people that others cannot. This is similar to what we've seen in games like Final Fantasy Tactics in the past and is sure to add a lot of customization and strategy options to the game. It will include a pop-up art book, a nod to the game's unique graphical style, as well as a a map and a "sound selection CD" and a replica coin based on the in-game currency. The special edition will be available the same day as the stand-alone game itself.
Are you excited by the old-school look of Octopath Traveler?