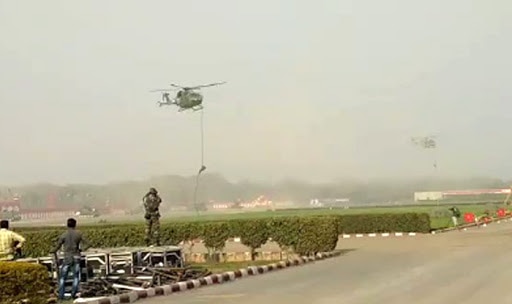 According to reports, the injured soldiers were part of the parade that will be held at Army Parade Ground in Delhi Cantonment.
Three jawans from the army were injured during rehearsals for Army Day parade in New Delhi. The rope that the jawans were using to eject from the helicopter broke and they fell on the ground.
In an exclusive footage accessed by India TV, eight commandos can be seen participating in slithering operation from advanced light helicopter "Dhruv".
An official from the Indian Army said that all the 3 jawans are safe and further investigation is underway. None of the soldiers suffered any serious injuries, the Indian Army confirmed.
Meanwhile, an inquiry has been ordered to ascertain how the accident took place.
The accident, a video of which has become viral on social media, occurred on January 9. Since there was a malfunction in the aircraft's boom, "A 2-member investigating team from Hindustan Aeronautics Limited (HAL) has come on Wednesday to probe the matter", said a source in the HAL. "Material failure" appears to be the reason behind the incident, involving AHL Dhruv, sources told PTI.
The Indian Army celebrates Army Day in honour of Lieutenant General KM Kariappa who took over as the first Commander-in-Chief of the Indian Army from General Sir Francis Butcher on 15 January 1949.