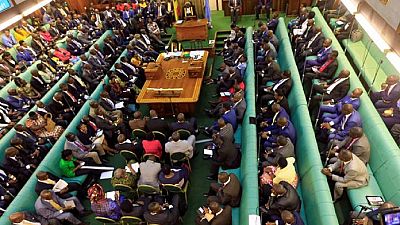 Uganda's ruling party has an overwhelming majority in Parliament and the bill is expected to pass when it is put to a vote.
"There were so many, I saw them".
There was tension in the air as parliament scrutinized the report on the Constitutional Amendment Bill 2017 prepared by parliament's committee of legal and parliamentary affairs, which among others issues, seeks to remove the presidential age limit.
The opposition MPs say they have lost trust in the Speaker, accusing her of turning the rules of procedure into her own rules, even going as far as suspending some members illegally. Museveni has ruled since 1986.
Those suspended are Opposition Chief Whip, Ibrahim Ssemujju, his colleagues Mubarak Munyagwa, Allan Ssewanyana, Anthony Akol, David Odur and Gerald Karuhanga for alleged heckling and disruptions.
Opposition and campaigners are opposed to the bill, arguing that the move by the ruling NRM is meant to allow incumbent President Yoweri Museveni, now 73, to run in the 2021 elections when he will be over 75.
There was commotion in the House as legislators allied to Mr Museveni's National Resistance Movement and the opposition Forum for Democratic Change traded blows and engaged in a war of words.
Speaker Rebecca Kadaga suspended the plenary until 2pm as she investigates the lawmakers' claims.
In late September lawmakers brawled in parliament for two consecutive days as lawmakers opposed to the bill unsuccessfully tried to filibuster it.
Police later intervened and restored order.
In recent years he has come under a growing spotlight for a range of rights violations, corruption and his unwillingness to give up power.