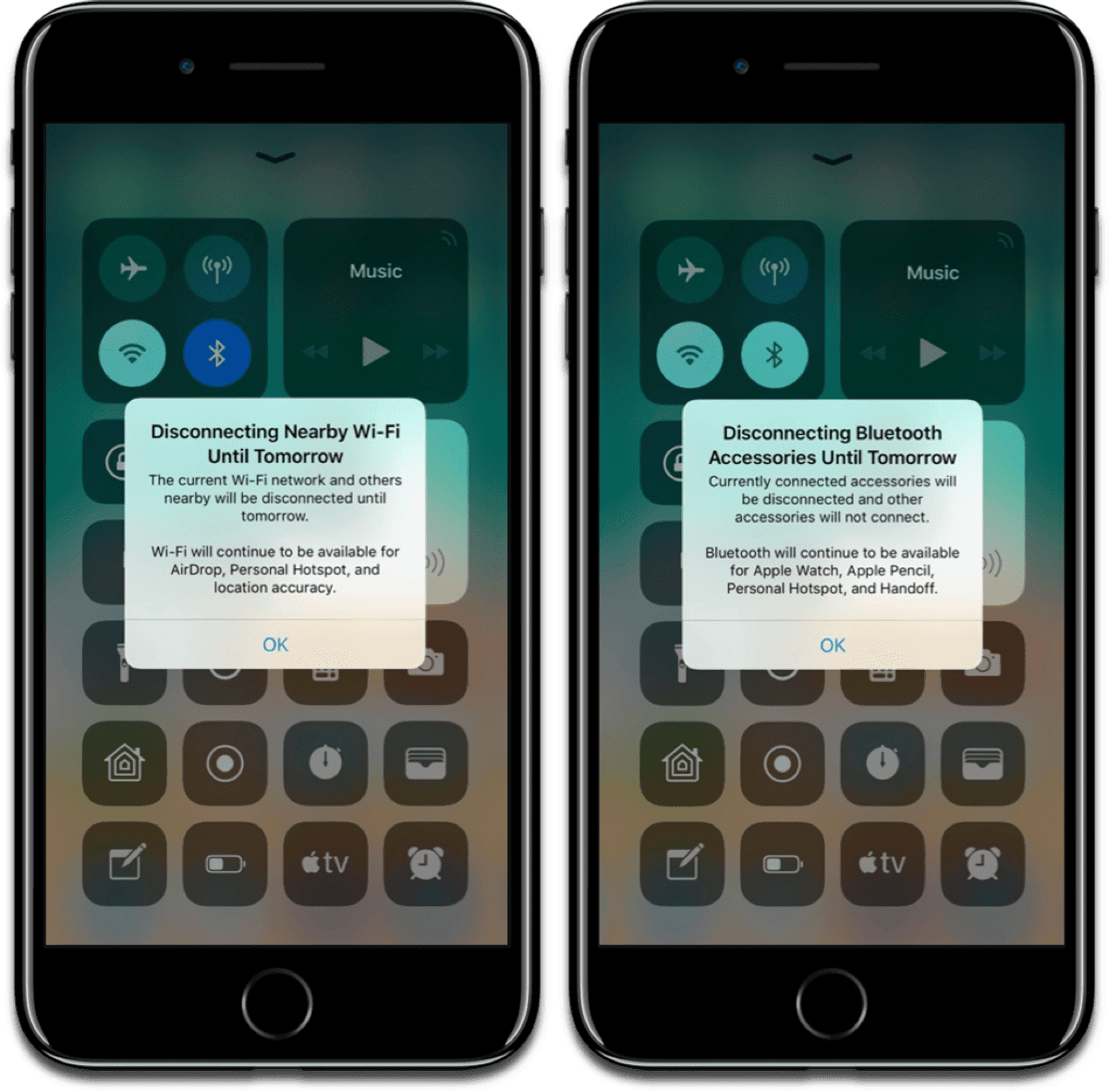 In previous iterations of iOS, whenever the user brought up Control Center and toggled WiFi or Bluetooth on/off, it did exactly that.
iOS 11 introduced some of the biggest changes in the mobile platform we've seen in years. However it seems that come iOS 11.2, Apple will make that clearer to users.
Apple will alert users to a change in how Control Center's Wi-Fi and Bluetooth toggles work with the release of iOS 11.2. While the message does say that when you disable Wi-Fi or Bluetooth they turn back on automatically the next day, they both can be turned on earlier. Wi-Fi and Bluetooth still remain on in that disconnected state and will even reconnect under a few circumstances.
You walk or drive to a new location. The Bluetooth equivalent reads, "Currently connected accessories will be disconnected and other accessories will not connect [until tomorrow]". One issue? The changes included buttons that appeared to be convenient wi-fi and Bluetooth switches, but in reality simply disconnected phones from nearby devices and networks instead of turning the chips off.
Note that the change is only a beta, so Apple could still decide the fix isn't a particularly good solution before pushing it out to users.
Wi-Fi (Bluetooth) is reactivated using Control Center.
"Disconnecting Bluetooth Accessories Until Tomorrow".
Apple's developers are seemingly testing whether that element of the design needs a formal fix, per MacRumors.
Apple's argument for the change in behavior is to let "critical" features, like Apple Pencil, Apple Watch, AirDrop, etc.to continue working even after users think they've turned off Wi-Fi or Bluetooth.