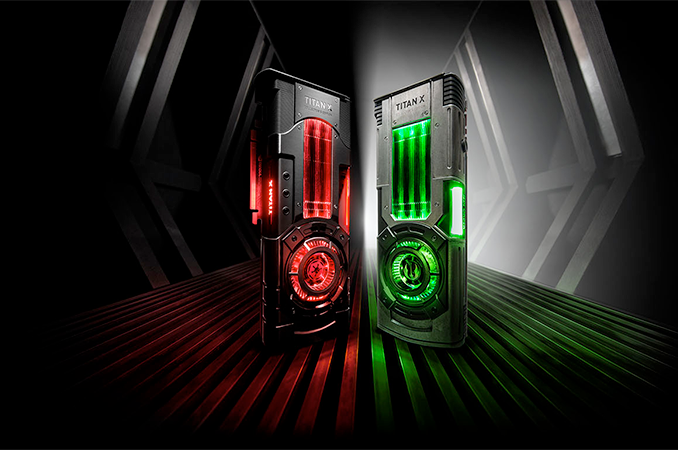 Last week, it became clear that Nvidia wasn't finished with GPU launches for the year, as it began teasing the TITAN Xp Collector's Edition. There are bright green LEDs for the light side or a moody red version for the dark side, and both have subtle design differences for Star Wars fans. Well, it turns out that most were wrong, as it has been revealed as being a Star Wars collectible, featuring both Galactic Empire and Jedi Order variations for Star Wars fans to swoon over.
It's no coincidence these two Star Wars-themed GPUs look like lightsabers when seen from the side.
The Jedi Order GPU simulates the wear and tear and battle-worn finish of many items used by the Rebel Alliance, resulting from its diecast aluminum cover being subjected to an extensive, corrosive salt spray.
The Galactic Empire version features a sleek black shroud, which is indicative of the infinite resources and orderly nature of the Empire. They're actually a bargain for what you get at just $1m200 (£915), and thankfully there's no mark up compared to the regular editions - and we've got a lot of respect for Nvidia for that. "Collector's Edition" has also been engraved on the cards south of the "Titan X" marking.
The Star Wars NVIDIA TITAN Xp Collector's Edition GPUs use the NVIDIA Pascal-based GP102 GPU, each with 3,840 CUDA cores running at 1.6GHz, and 12GB of GDDR5X memory running at 11.4Gbps, with 12TFLOPs of processing power. Pre-orders open at 2PM tomorrow exclusively on Nvidia's website.