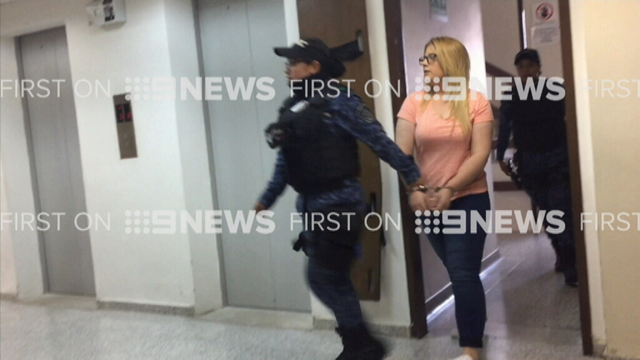 Sainsbury arrives at court in July.
A plea deal has reportedly been agreed to between accused drug smuggler Cassandra Sainsbury and prosecutors.
Sainsbury could be released in as little as three and a half years if the surprise deal is accepted.
He said the judge would return to court on November 1 to announce whether the deal has been approved.
Sainsbury's mother Lisa Evans also arrived for the hearing, which was scheduled for 6am AEDT today.
It is expected the 22-year-old would learn her fate on charges of cocaine trafficking.
But it's been reported the prosecution is seeking another adjournment in the case in a move which could benefit the Australian.
It comes months after the 22-year-old was arrested at Bogota Airport and accused of attempting to take nearly 6kg of cocaine out of the country.
Sainsbury's drawn-out case has been before the courts for 70 days already, based on her plea hearing on August 10.
She has been detained at El Buen Pastor jail in Bogota - a prison notorious for its overcrowding and annual beauty pageants.
Ms Sainsbury during her detention at the International Airport the Dorado, in Bogota, Colombia, on 11 April 2017.
In a tell-all interview with 60 Minutes earlier this year she claimed the drug ring had sent her WhatsApp images and texts of her family - saying her loved ones would be killed if she failed to obey their orders.
"I had outstanding bills, I suppose I took the risk", she said.