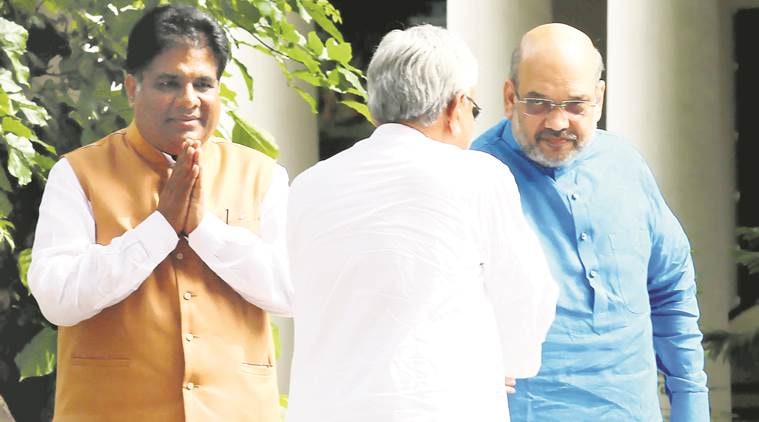 Yadav today congratulated Patel for his nail-biting finish in the Rajya Sabha election. He was dismissed for allegedly writing to the returning officer of the Gujarat Assembly without authorisation and appointing an election agent for polling in the state, PTI reported.
Chhotubhai Vasava told NDTV this afternoon that he had voted for "good friend" Ahmed Patel.
Yadav - who will begin a visit to Bihar on Thursday - has been public about his unhappiness with party chief Nitish Kumar deciding to break away from the "grand alliance" with the Congress and the RJD, and allying with the BJP.
Veteran Congress leader Ahmed Patel's re-election in Rajya Sabha for the fifth consecutive term from Gujarat seat has fuelled in a new life in the Opposition.
Mr Vasava, who is known to be close to Ahmed Patel, said he made a decision to vote for the Congress candidate as "he is unhappy with the ruling party's works for the poor and tribal population" that he represents. The others are senior leader Shankersinh Vaghela, his son Mahendrasinh, Raghavji Patel, Dharmendrasinh Jadeja, C K Raulji, Bholabhai Gohel, and Amit Chaudhary.
"For 22 years the BJP has looted the state". Tyagi's statements were however countered by Ambalal Jadhav, the JD (U)'s general secretary in Gujarat. Dafda said Kandhal Jadeja voted for BJP. The Congress' Ahmed Patel won after a late night drama on Tuesday thanks to the Election Commission of India invalidating two votes. Even after Vaghela's resignation, Patel was in touch with him on the phone regularly, and had gone to his home a week ago, the source said. In addition, six party MLAs did not vote since they had quit the party and resigned from membership of the legislative assembly. Tyagi openly declared that the vote was for the BJP.